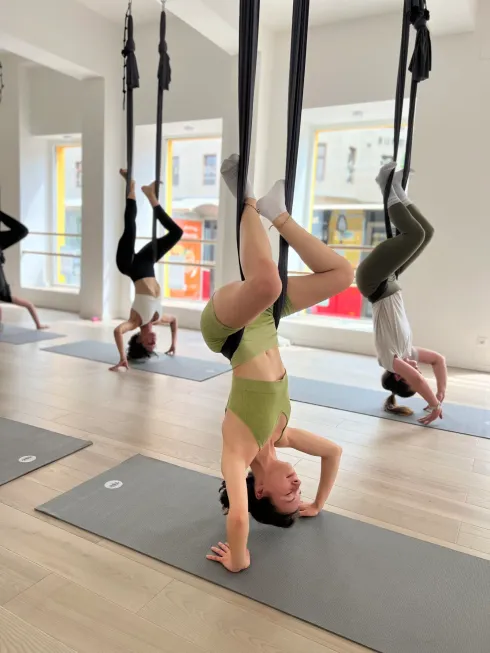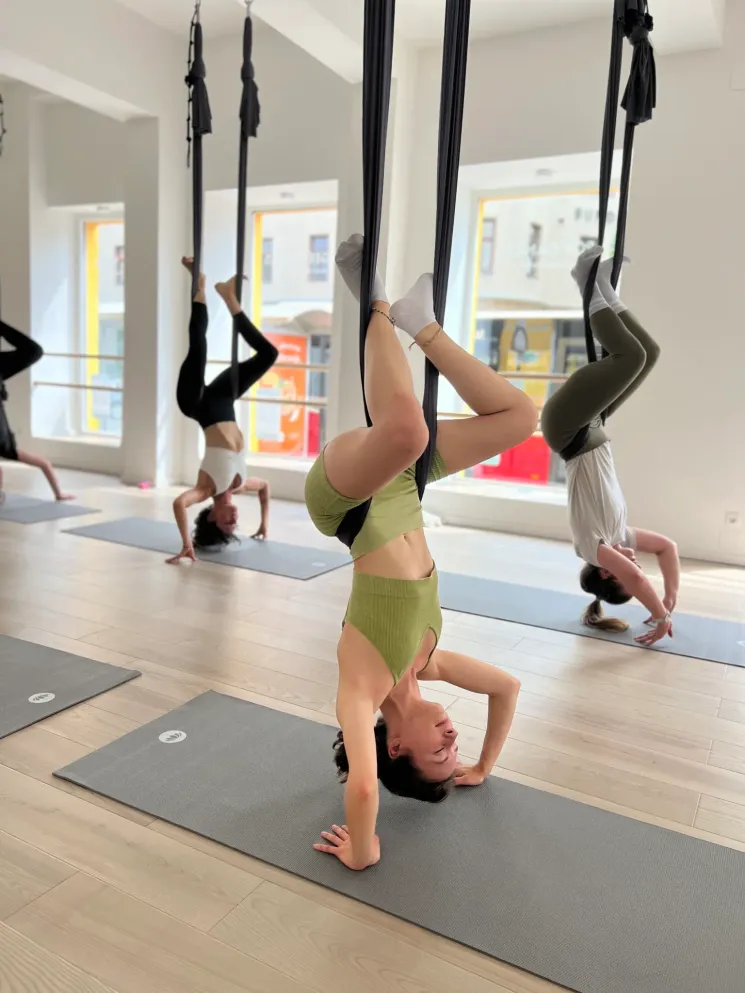 Level
All Levels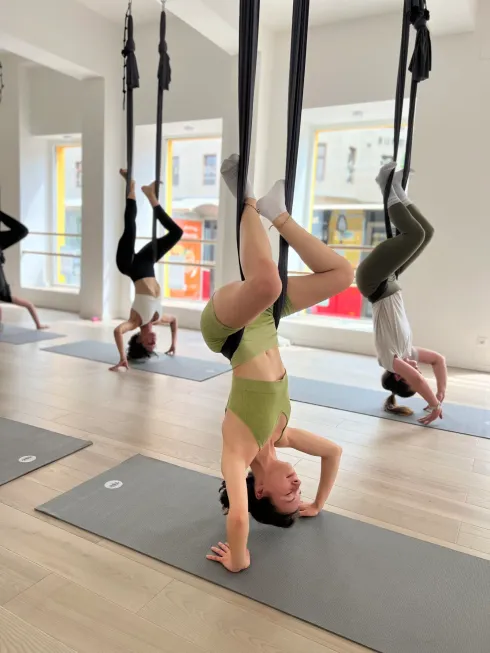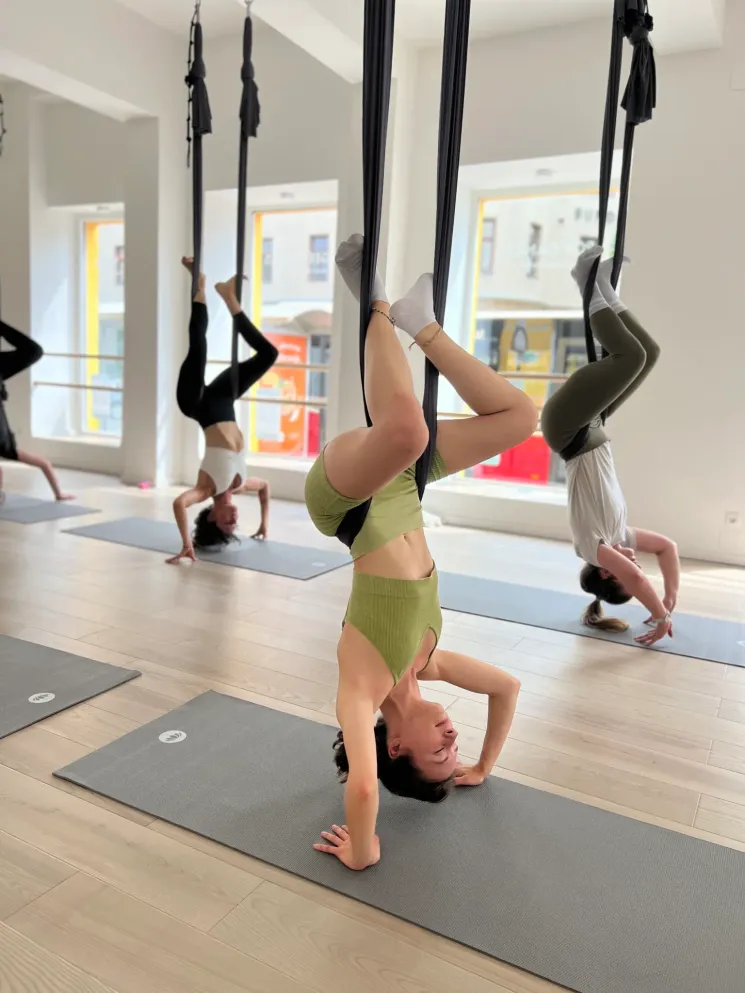 Aerial Yoga (auch Fly Yoga genannt) ist eine besondere Yogapraxis, bei der alle Asanas mithilfe eines hängenden Yogatuchs ausgeführt werden. Das Yogatuch ermöglicht auch Anfängern die Ausführung der verschiedensten Asanas. Wir entspannen uns im schaukelnden Yogatuch, probieren akrobatische Asanas aus uns stärken die Ganzkörpermuskulatur. Die Stunde wird eine Menge Spaß machen und wir werden die Welt mal kopfüber ansehen ;)
Die natürliche Dekompression der Wirbelsäule im Tuch, verringert die Belastung von Rücken und Nacken, und der sanfte Druck auf die Gelenke macht die Übungen angenehm und schmerzfrei. Aerial Yoga eignet sich auch bestens zur Bekämpfung von Schmerzen, die von einem sitzenden Lebensstil, Skoliose oder anderen Haltungsschäden verursacht wurden.
Unsere Aerial Yoga Stunden beinhalten auch an Pilates angelehnte Elemente. Man kann sich also einerseits sehr gut entspannen, kommt aber auch leicht ins Schwitzen und verspürt ein angenehmes Brennen in den aktiven Körperregionen.
Nach einer Aerial Yoga Stunde fühlt man sich einfach unglaublich entspannt und will das Yogatuch kaum verlassen. Die Shavasana im schaukelnden Tuch ist eines der Highlights der Aerial Yoga Praxis.
Infos zu unseren TrainerInnen:
Sigrid und Sabrina unterrichten auf Deutsch. Anna hält ihre Stunden auf Englisch ab :)
Aerial Yoga (also called Fly Yoga) is a special yoga practice in which all asanas are performed with the help of a hanging yoga hammock. The hammock enables even beginners to perform a wide variety of asanas. We will relax in the swinging yoga hammock, try acrobatic asanas and strengthen the whole body muscles. The class will be a lot of fun and we will take a look at the world upside down ;)
Our Aerial Yoga classes also include elements inspired by Pilates. So, on the one hand, you can very well relax, but you also sweat slightly and feel a pleasant burning sensation in the active parts of your body.
After an Aerial Yoga class you feel incredibly relaxed and hardly want to leave the yoga hammock. The Shavasana in the swaying hammock is one of the highlights of the Aerial Yoga practice.
Info about our trainers:
Sigrid and Sabrina teach in German. Anna holds her lessons in English :)
Date
Saturday, September 23, 2023
Time
06:45 PM - 07:45 PM
(60 min)
Wittelsbachstraße 3, 1020 Wien
Teacher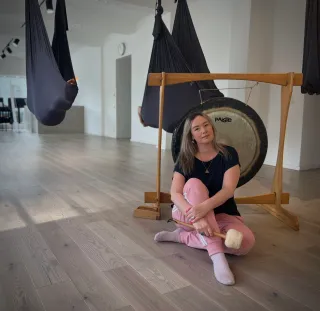 Anna
Pricing options
| | | |
| --- | --- | --- |
| €20.00 | Single ticket | |
| €20.00 | 1 Einheit | |
| €80.00 | 5er Block | |
| €150.00 | 10er Block | |
| €150.00 | Privatstunde (bis zu 10 Personen) | |
| | 4x/Monat | |
| | 8x/Monat | |
| | UNLIMITED | |
Cancellation policy
Stornierungen sind online auf Eversports bis zu 24 Stunden vor Beginn möglich.
Date
Saturday, September 23, 2023
Time
06:45 PM - 07:45 PM
(60 min)