Steel Mace Vinyasa STUDIO
Level
Intermediate


Vinyasa Flow ist ein dynamischer Yogastil, in dem sich Bewegung und Atmung zu einem fließenden Erlebnis verbinden. Mit dem Fokus auf ihre präzisen Ausrichtung werden verschiedene Körperpositionen variiert angeordnet, so dass ein harmonischer und kreativer Fluss von Bewegungsabläufen entsteht.
In dieser Klasse wird deine Vinyasa Praxis durch die Verwendendung des Steel Mace (Morrenstern) noch verstärkt!
Date
Friday, September 29, 2023
Time
06:00 PM - 07:30 PM
(90 min)
Grenzgasse 40, 2340 Mödling
Teacher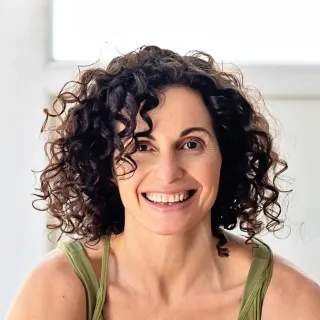 Adina
About
Adina is a Vinyasa Flow-based teacher from New York City and brings over 20 years of experience in teaching yoga, pilates, somatics, and various movement arts. She has been living in Austria for 15 years and teaches Vinyasa flow and Steel Mace Vinyasa classes at Yogazentrum Mödling. Her teaching style is both dynamic and embodied. She creatively threads in deeper philosophy and concepts into her flows. Expect a heartful, creative, energetic and profound experience while taking her class. *Please note classes are in English.
Pricing options
| | | |
| --- | --- | --- |
| €49.00 | 30 Tage Neukunden Karte | |
| | Einzelstunde Drop-In | |
| | Yogablock 5-er | |
| | MEIN ALLERERSTER GRUNDKURS (8 Einheiten) | |
| €152.00 | X-Mas 10-er Yogablock | |
| | Yogablock 10-er | |
| | Limited Membership | |
| | Unlimited Membership | |
Steel Mace Vinyasa STUDIO
Date
Friday, September 29, 2023
Time
06:00 PM - 07:30 PM
(90 min)