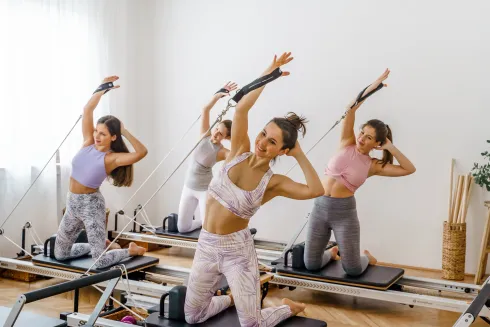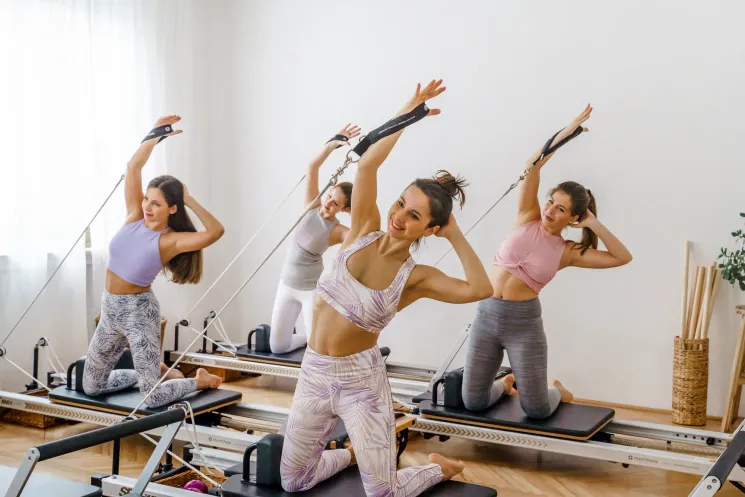 Experienced intermediate: REFORMER CLASSIC PLUS - women only, not for pre/ post natal or injuries
Level
Advanced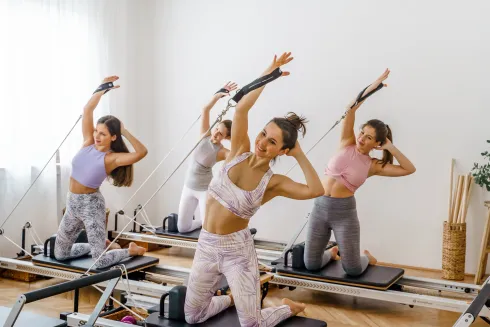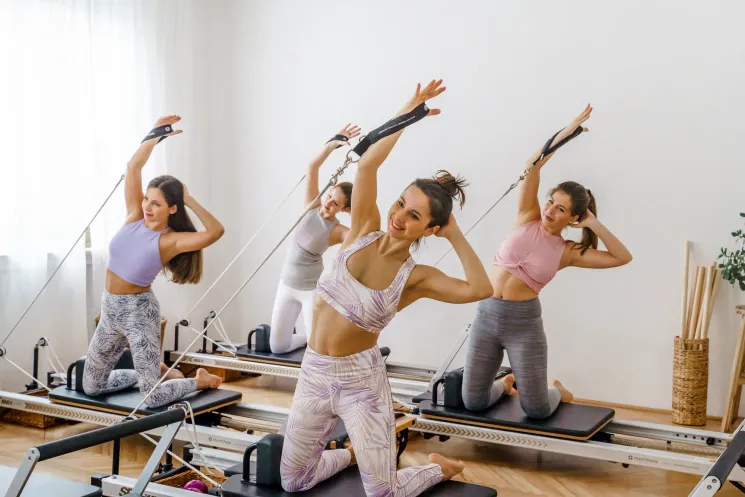 We have 2 Studios: Elisabethstrasse 6 & Opernring 1. This class is held here:
Opernring 1/R
Take the elevetor on the right side from concierge
7th floor, door 717
1010 Vienna
Please ignore google maps (or read full description in google maps) because it often shows just Elisabethstrasse location.
Please read everything. The class is in german only. Thank you.
Unsere signature Reformer Classic Flow auf next level gebracht. Jedes mal wird Classic Plus auf andere Weise intensiver gestalltet: mit eine Jumpboard Sequenz, mit Hanteln, mehr Planks, usw.
VORAUSSETZUNGEN: Falls du mit deinem Reformer Training bei uns startest, dann solltest du bevor du Classic Plus buchst, mind. 1x Reformer Beginners und 5x Reformer Classic Klassen besuchen.
Falls du woanders Reformer gemacht hast, brauchst du mind. 6 Stunden Reformer Erfahrung (davon 1x Reformer Classic bei uns).
Bitte habe Verständnis, dass nur erfahren und trainierte Kundinnen an Reformer Classic Plus Klassen teilnehmen dürfen. Hier geht es darum, dass die Kundinnen eine herausfordernde Klasse geniessen können und nicht bremsen müssen, weil die Trainerin Rücksicht auf unerfahrene Kundin nehmen muss. Die Klasse ist auf Deutsch. Wir können nicht zweisprachig unterrichten.
WICHTIG!
Komme bitte mind. 10 Minuten früher. Die Klasse beginnt pünktlich und "Late arrivals" stören den Klassen Flow erheblich.
Zum mitnehmen: rutschfeste Socken, Handtuch, Wasserflasche, und beim kaltem Wetter warmen Pulli da wir regelmässig während und nach die Klasse lüften.
Dankeschön!
Date
Sunday, June 11, 2023
Time
10:00 AM - 10:50 AM
(50 min)
Opernring 1/R/717, 7. Stock, 1010 Wien
Pricing options
| | | |
| --- | --- | --- |
| €20.00 | DROP IN REFORMER | |
| €80.00 | 5er Reformer Block | |
| €150.00 | 10er Reformer Block | |
Cancellation policy
Stornierungen sind online auf Eversport bis zu 12 Stunden vor Beginn möglich.
Experienced intermediate: REFORMER CLASSIC PLUS - women only, not for pre/ post natal or injuries
Date
Sunday, June 11, 2023
Time
10:00 AM - 10:50 AM
(50 min)