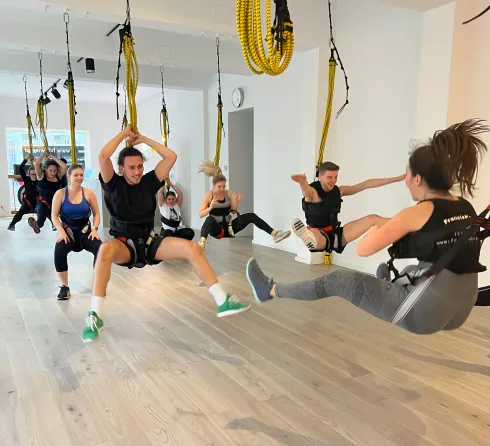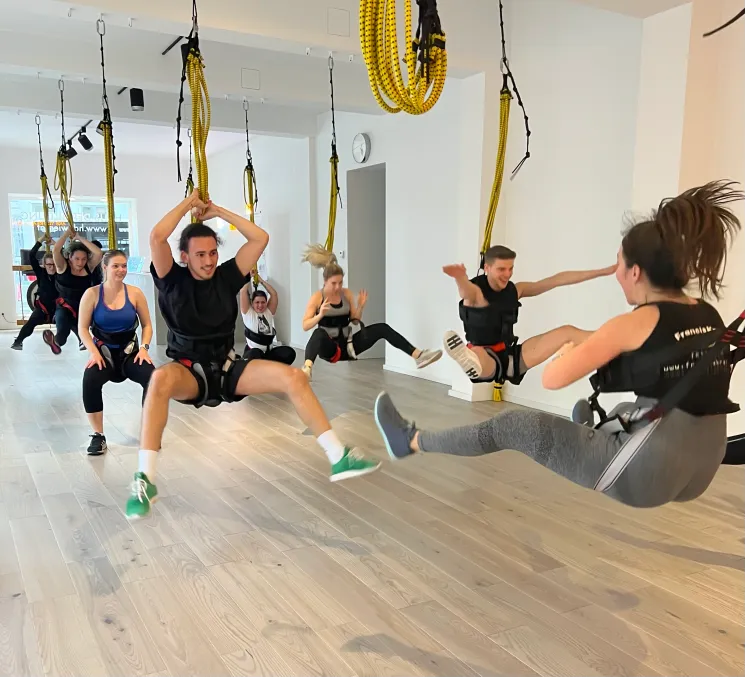 BUNGEE FITNESS (all levels)
Level
All Levels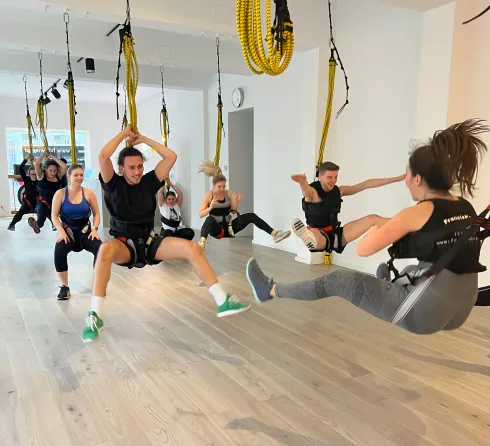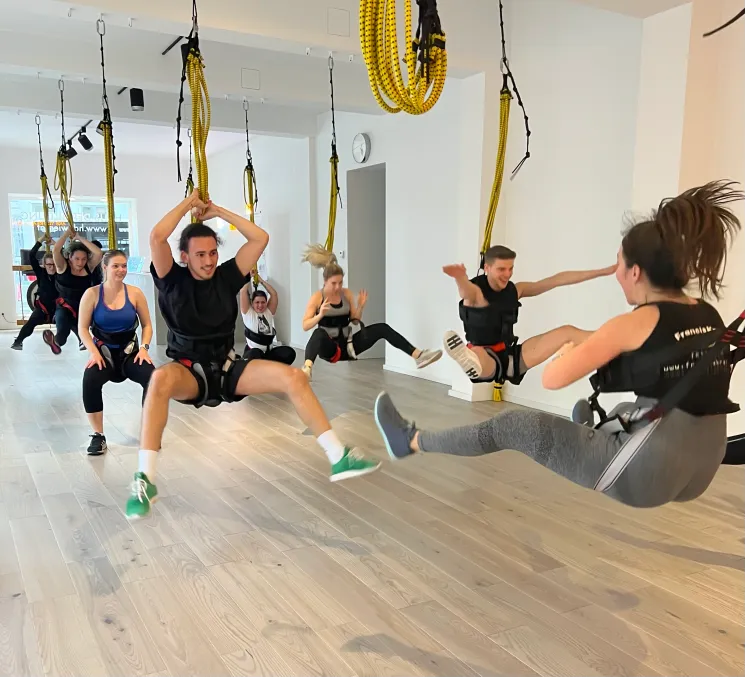 Bungee Fitness ist ein einzigartiges Cardiotraining, das dem Körper neue Möglichkeiten eröffnet und einfach eine Menge Spaß macht. Mit den Bungeeseilen gelingen uns plötzlich 1 - 2m Sprünge und 360° Drehungen in der Luft. Liegestütze, Burpees, Kniebeugen und viele andere Übungen werden zu einem ganz anderem und viel angenehmeren Erlebnis. Kennst Du schon das volle Potenzial Deines Körpers? Lass dich mit diesem Training auf etwas Neues ein!
Unsere Bungee Trainings eignen sich sowohl für Sportanfänger als auch Fortgeschrittene und laden alle TeilnehmerInnen mit positiver Energie und neuen Eindrücken auf. Wir probieren verschieden Sprünge aus, lernen kurze Trainingsroutinen und toben uns richtig aus. Hättest Du gedacht, dass wir bei einem 60-Minütigen Training durchschnittlich 400 - 600 Kalorien verbrennen? Das bestätigen auch die Smartwatches unserer TeilnehmerInnen ;)
Was soll ich mitnehmen?
- saubere Indoor-Sportschuhe mit weicher Sohle
- lange (3/4 passt auch), dickere Jogginghosen oder Leggings
- Wasserflasche
Infos zu unseren TrainerInnen:
Maria, Franciska und Thomas unterrichten auf Deutsch. Belén hält ihre Trainings auf Englisch ab :)
Bungee Fitness is a unique cardio workout that opens up new possibilities for the body and is simply very fun. With the bungee cords we suddenly succeed in 1 - 2m jumps and 360° turns in the air. Push-ups, burpees, squats and many other exercises become a completely different and much more enjoyable experience. Do you already know the full potential of your body? Try something new with this workout.
Our bungee trainings are suitable for beginners as well as advanced participants and charge everyone with positive energy and new impressions. We try different jumps, learn short training routines and let off steam. Did you know that we burn an average of 400-600 calories during a 60-minute workout? This is also confirmed by the smartwatches of our participants ;)
What should I bring?
- clean indoor sports footwear with soft sole
- long (3/4 fits also), thicker jogging pants or leggings
- water bottle
Info about our trainers:
Belén holds her trainings in English. Maria, Franciska and Thomas teach in German.
Date
Tuesday, June 13, 2023
Time
05:15 PM - 06:15 PM
(60 min)
Wittelsbachstraße 3, 1020 Wien
Pricing options
| | | |
| --- | --- | --- |
| €20.00 | Single ticket | |
| €20.00 | 1 Einheit | |
| €80.00 | 5er Block | |
| €150.00 | 10er Block | |
| €150.00 | Privatstunde (bis zu 10 Personen) | |
| | 4x/Monat | |
| | 8x/Monat | |
| | UNLIMITED | |
Cancellation policy
Stornierungen sind online auf Eversports bis zu 24 Stunden vor Beginn möglich.
BUNGEE FITNESS (all levels)
Date
Tuesday, June 13, 2023
Time
05:15 PM - 06:15 PM
(60 min)