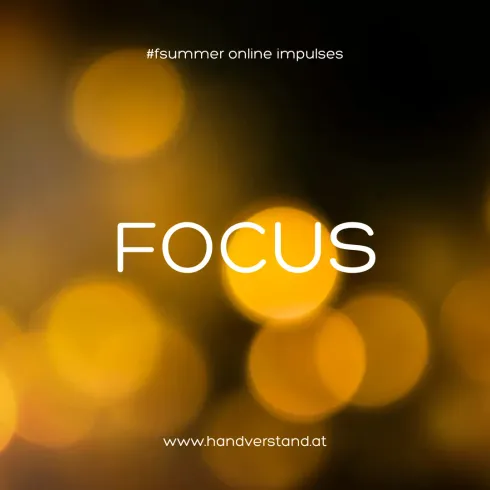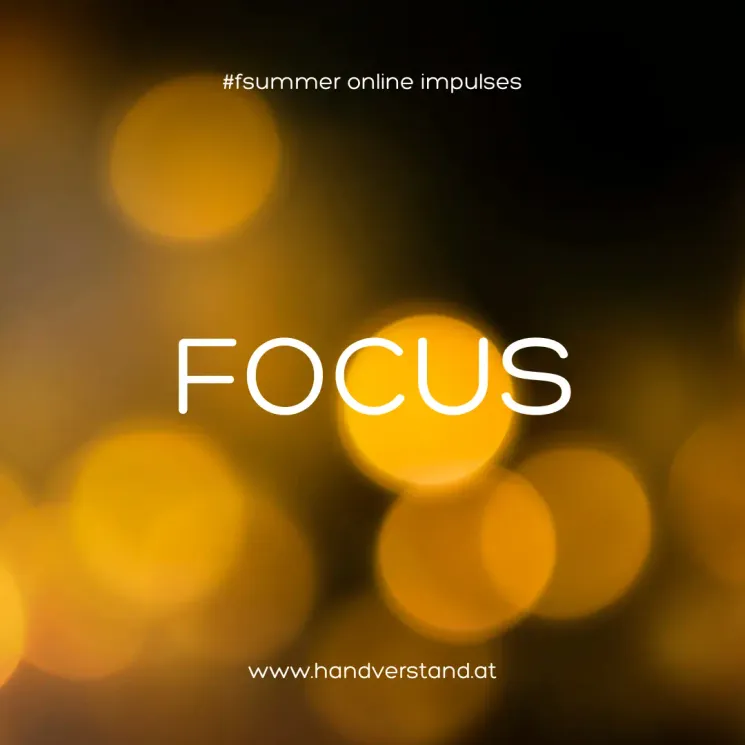 Level
All Levels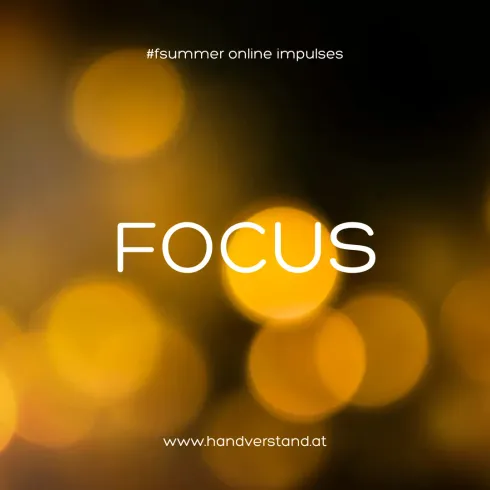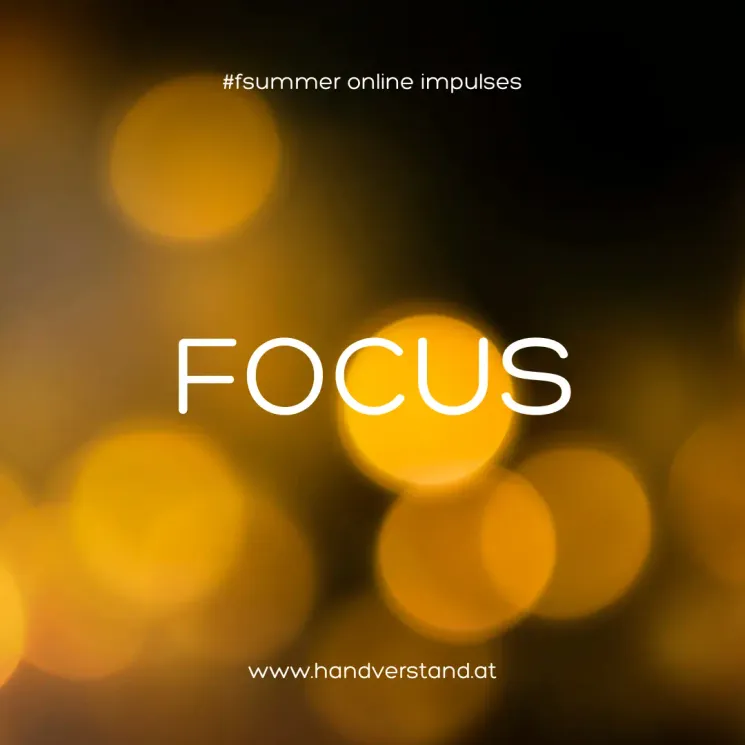 FOCUS
5 Tage, 5 kraftvolle Impulse für deinen Fokus.
Wherever you are this summer. Focus. Where you place your attention, is where you place your energy. Whereever you place your energy, will expand.
Worauf richtest Du deine Energie? Tag ein, tag aus?
Ich bin ein Mensch, und ich verliere meinen Fokus mehrmals pro Tag. Verliere mich in digitalen Medien, oder zerstreue mich unbewusst.
Meist sind es die Impulse anderer Menschen, die mich wieder fokussieren lassen. Die mir bewusst machen, wie essentiell es ist, auf das zu fokussieren, was wir stärken möchten und was wir in diesem kostbaren Leben sein wollen. Der Sommer ist die perfekte Zeit dazu dich zu fokussieren. Nutze die lockeren Sommer-Vibes, um dich täglich neu auf das auszurichten, was und wer wirklich sein willst.
Dieses online-event ist ein kraftvoller täglicher Impulsgeber für dich. Ich will Dir über kraftvolles Atmen und Hinspüren in deinen Körper, Impulse geben dich auf das ausrichten zu können, was DU wirklich willst.
Energie zu verschleudern ist leicht. Die Ablenkungen von uns selbst, von unserer Essenz, warten an jeder Ecke, lauern smart auf dich.
Komm und fokussiere dich.
Es braucht dazu ein gewisses Commitment. Verschieb das Frühstück um 40 Minuten und atme um 6:30 kraftvoll in deinen Tag.
Genauer Ablauf: l
ive, online, Gruppe um 6:30 morgens!
Kraftvolle Breathwork-Session, die dich öffnet und auf den Tag ausrichtet. Dich deine Energie spüren lässt, dich in den Moment holt.
Die Atemsession geht in eine kurze, tiefe Meditation zu einem Tagesimpuls über.
Tagsüber gehst Du mit dem Impuls der Session durch dein Leben. Sei es in der Arbeit, zuhause oder im Urlaub. Du baust eine neue Beziehung zu dem auf, was Dir wirklich wichtig ist im Leben.
In meiner support-group bekommst Du von mir tagsüber immer wieder Impulse, die dich in Verbindung mit dir und dich im Fokus halten.
Inkl. Aufzeichnung zum Nachhören für 14 Tage, falls Du mal keine Zeit hast.
Use this opportunity.
Focus your energy.
Es ist so wichtig für dein Leben.
Date
Started on Monday, August 7, 2023
Multiple sessions - see schedule
There is an online stream available for this activity. To participate, take the following steps:
This studio uses Zoom as their online streaming provider. Download the according app to your laptop, tablet or smartphone

Access to the online livestream is available 15 minutes before the start of the activity. Simply go to "My bookings" and click on "Join online stream now" to be redirected to the corresponding page

With some streaming providers (e.g. Zoom) it is possible for participants to see each other. However, it is theoretically possible to deactivate the camera function. The name you enter when entering the online meeting room is displayed to other participants. However, you can always change your name (e.g. only the initials). Please note: Individual rules for online participation may apply for each class or venue.
Teacher
Elmar
Schedule
Check out which dates are available for this event
| Date | Time | Location | Teacher |
| --- | --- | --- | --- |
| 08/07/2023 | 06:30 AM - 07:10 AM | Online | Elmar |
| 08/08/2023 | 06:30 AM - 07:10 AM | Online | Elmar |
| 08/09/2023 | 06:30 AM - 07:10 AM | Online | Elmar |
| 08/10/2023 | 06:30 AM - 07:10 AM | Online | Elmar |
| 08/11/2023 | 06:30 AM - 07:10 AM | Gisela-Legath-Gasse 5, 1220 Wien | Elmar |
Cancellation policy
Stornierungen sind online auf Eversports bis zu 24 Stunden vor Beginn möglich.
Date
Started on Monday, August 7, 2023
Multiple sessions - see schedule