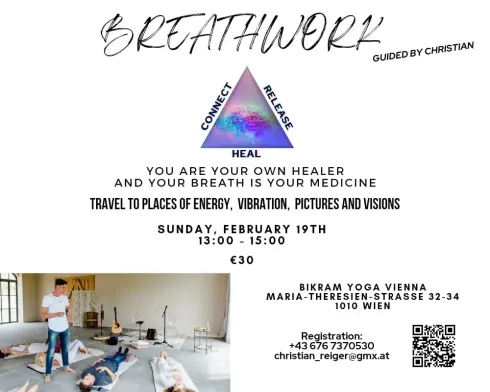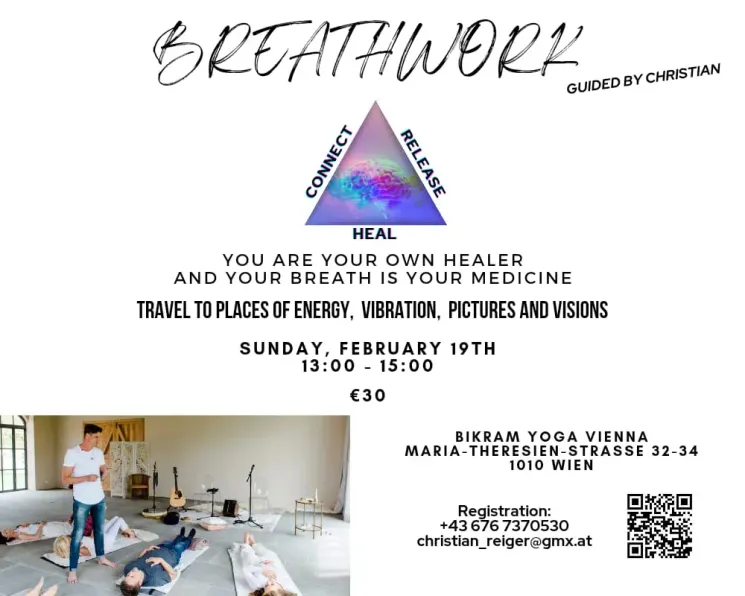 Breath work by Christian Reiger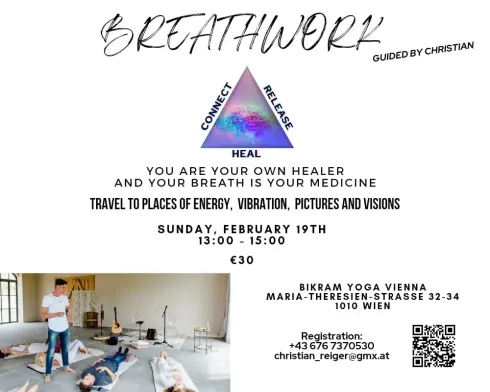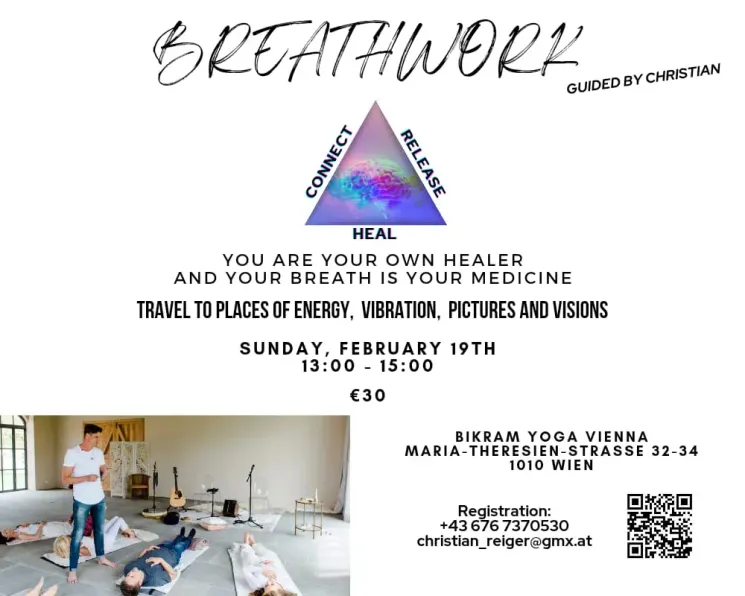 Breathwork is a journey into our inner being, an encounter with the subconscious guided by the breath. In our normal everyday consciousness, it is often difficult to see the bigger picture. It is always a wonder how quickly the inner world can change when we connect to something bigger that is, in truth, always within us. The invitation to you is to trustfully surrender to the breath and open yourself to the unknown and the new within you. It is your journey, and I look forward to accompanying you. Through breathing techniques, you can release old, negative, and toxic emotions from the past and your childhood.
▪️please don't overeat 2 hours before ▪️ Please bring a blanket to cover yourself ▪️ If you want to use your mat, please bring it with you ▪️ If you want, you can also get an eye mask or a cloth to cover your eyes
The session is guided in German and English. Please come 10-15 minutes earlier so we can start at 13.00.
Finally, I would like to draw your attention to the contraindications; in these cases, please let me know before (+43 676 7370530 or christian_reiger@gmx.at)
▪️Pregnancy ▪️severe asthma ▪️Epilepsy ▪️Schizophrenia ▪️acute psychosis ▪️heavy medication or psychotropic drugs ▪️heavy traumatic experiences ▪️severe infections ▪️increased eye pressure, glaucoma ▪️detached retina ▪️Cardiovascular diseases ▪️uncontrolled high blood pressure
Breathwork ist eine Reise in unser Inneres, eine Begegnung mit dem Unbewussten, gesteuert durch den Atem. In unserem normalen Alltagsbewusstsein ist es oft schwer, ein größeres Bild zu sehen. Es ist immer wieder ein Wunder, wie schnell sich die innere Welt verändern kann, wenn wir uns an etwas Größeres anbinden, das in Wahrheit immer in uns ist. Die Einladung an dich besteht darin, dich vertrauensvoll dem Atem hinzugeben und dich dem Unbekannten und dem Neuen in dir zu öffnen. Es ist deine Reise und ich freue mich darauf, dich dabei zu begleiten. Durch Atemtechniken kannst du alte, negative und giftige Emotionen aus der Vergangenheit und deiner Kindheit loslassen.
▪️please 2 Stunden vorher nicht zu viel essen ▪️ Bitte bringe eine Decke mit, um dich zuzudecken ▪️ Wenn du deine Matte benutzen möchtest, bringe sie bitte mit ▪️ Wenn du möchtest, kannst du auch eine Augenmaske oder ein Tuch bekommen, um deine Augen zu bedecken
Der Kurs wird auf Deutsch und Englisch geleitet. Bitte komm 10-15 Minuten früher, damit wir um 13.00 Uhr beginnen können.
Zum Schluss möchte ich dich noch auf die Kontraindikationen aufmerksam machen; in diesen Fällen gib mir bitte vorher Bescheid (+43 676 7370530 oder christian_reiger@gmx.at)
▪️Pregnancy ▪️severe Asthma ▪️Epilepsy ▪️Schizophrenia ▪️acute Psychose ▪️heavy Medikamente oder Psychopharmaka ▪️heavy traumatische Erlebnisse ▪️severe Infektionen ▪️increased Augendruck, Glaukom ▪️detached Netzhaut ▪️Cardiovascular Krankheiten ▪️uncontrolled Bluthochdruck
Date
Started on Sunday, November 20, 2022
Multiple sessions - see schedule
32-34 Maria-Theresien-Straße 17 -, 1010 Wien
Teacher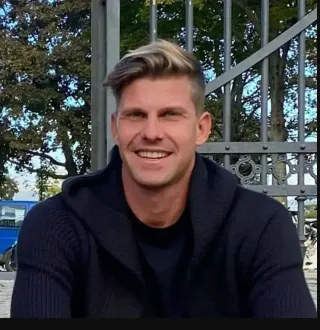 Christian
Schedule
Check out which dates are available for this event
| Date | Time | Location | Teacher |
| --- | --- | --- | --- |
| 11/20/2022 | 01:00 PM - 03:00 PM | | Christian |
| 02/19/2023 | 01:00 PM - 03:00 PM | | |
| 06/25/2023 | 01:00 PM - 03:00 PM | | Christian |
| 10/01/2023 | 01:00 PM - 03:00 PM | | Christian |
| 12/03/2023 | 01:00 PM - 03:00 PM | | Christian |
Cancellation policy
Stornierungen sind online auf Eversports bis zu 1 Stunden vor Beginn möglich.
Breath work by Christian Reiger
Date
Started on Sunday, November 20, 2022
Multiple sessions - see schedule