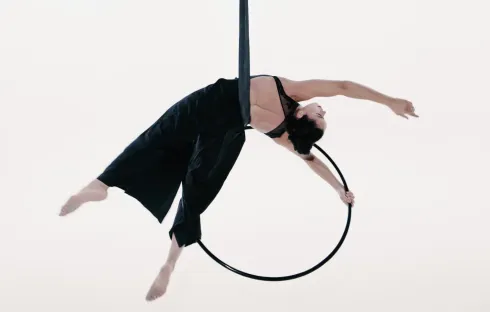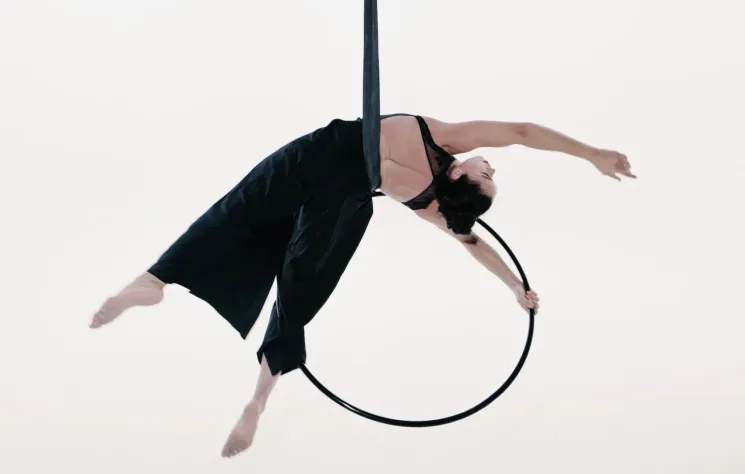 Aerial Hoop Choreography Sequences mit Kate Finegan
Level
All Levels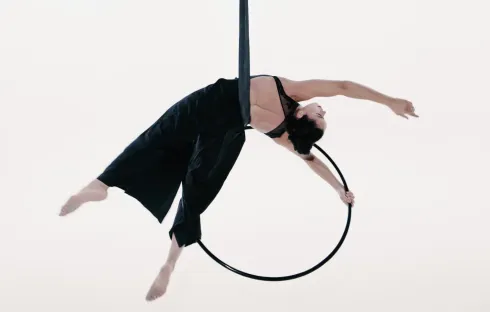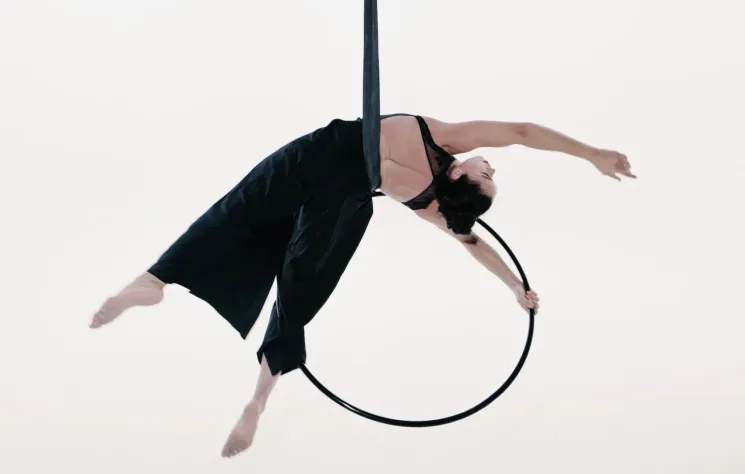 Spiralling choreography sequences with a spin, in this workshop you'll work on intricate movement within the hoop (such as lion rolls and rolling technique) while also working on a sequence on the strap. Creative play and focus will be given to developing your own unique movement quality and character work in the air. Discover your own new pathways in creative exploration and develop your own aerial style with character work.
Voraussetzungen: Straddle inversion under hoop (in long arm), pull up, single knee/hip hang
Kate Finegan is an Irish based aerial artist and theatre maker. Kate has performed internationally and toured extensively with leading Irish theatre and aerial companies including Fidget Feet and THISISPOPBABY. Kate's interest is in the fusion of aerial dance within theatre and this can be seen in her
own work with FemmeBizarre. Kate is excited to teach workshops in exploring character work within aerial dance and helping bring out unique movement qualities and pathways in her students.
Date
Started on Sunday, October 8, 2023
Multiple sessions - see schedule
Further Straße 10, 4040 Linz
Teacher
Gasttrainer
Schedule
Check out which dates are available for this event
| Date | Time | Location | Teacher |
| --- | --- | --- | --- |
| 10/08/2023 | 02:00 PM - 04:00 PM | Further Straße 10, 4040 Linz | Gasttrainer |
Cancellation policy
Da unsere Kurse viel Vorbereitung benötigen und wir hohe Material- und Raumkosten haben, bitten wir um Verständnis, dass wir rechtzeitig einplanen müssen, ob die Stunde stattfindet. Daher wird der Kurs bei einer Absage ohne Krankmeldung ab 2 Tagen im Voraus kostenpflichtig und wird zu 100% in Rechnung gestellt.
Aerial Hoop Choreography Sequences mit Kate Finegan
Date
Started on Sunday, October 8, 2023
Multiple sessions - see schedule