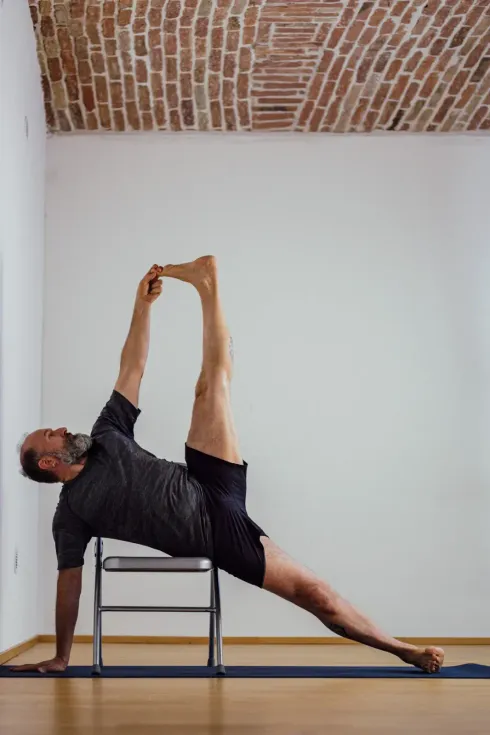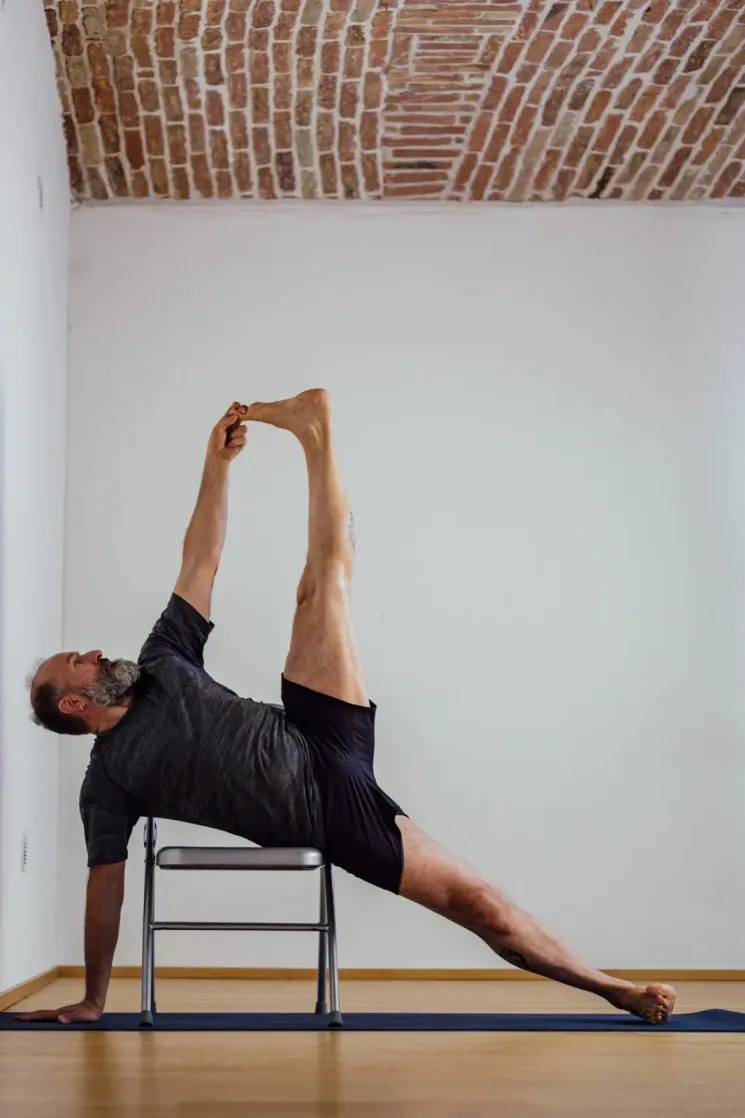 Chair Yoga Teacher Training with Bruno Teyssandier
Level
All Levels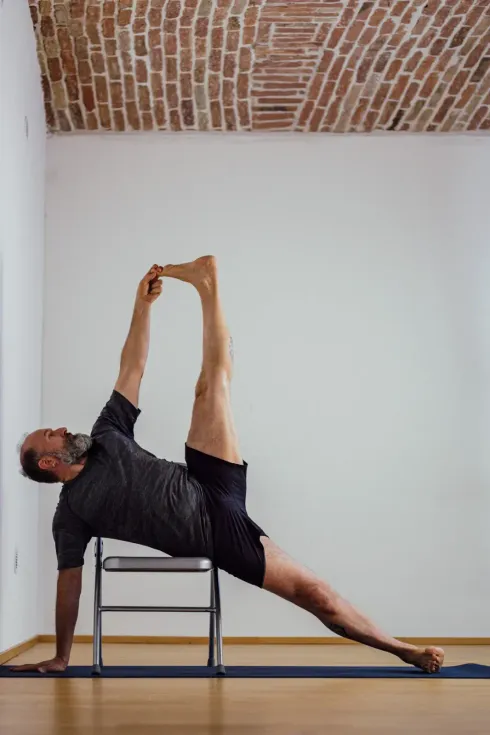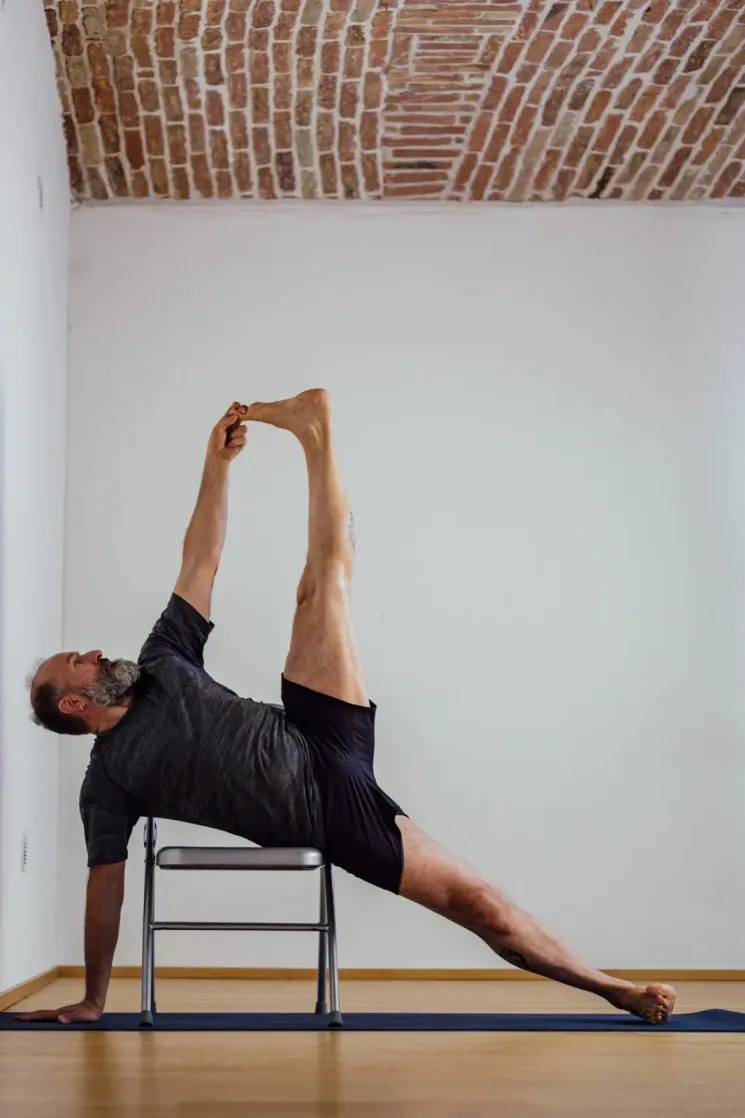 ::: this training will take place in Feelgoodstudio 1040, Paulanergasse 13 in 1040 Vienna :::
This in-person course is designed for yoga instructors who wish to learn to teach Chair Yoga, or for curious practitioners who wish to deepen their knowledge of Yoga. You do not need to be a Yoga instructor! The training is also appropriate for physical therapists.
The Teacher Training Level 1 gives you the ability to use this versatile prop in varying levels of practice from classes designed for those with mobility issues to advanced classes that allow students to experience better balance and more range of control in a new way. And you will explore the use of the Yoga chair for advancing your asana practice, as well as explore how to use a (Yoga) chair as a tool to make asanas more accessible, sustainable and transformative.
Schedule: Sat & Sun, 10:00 am to 4:00 pm. Price: € 360. IYA-Certificate!
In this Chair Yoga Teacher Training we will:
Explore the use of the Yoga chair for advancing your asanas
Learn to set up your own sequences and modify even further to meet your students where they are
Learn how to teach Chair Yoga classes
Discuss the art of active propping
Discuss how to express yourself and safely guide a Chair Yoga class (tone of voice, cues, guiding in/out of postures, themes)
Learn how to work with different injuries, age groups and people with disabilities
What you gain:
Full experiential class sessions
Two Restorative Chair Yoga classes
Presentation and practice of a variety of familiar asanas that can be performed using the chair as a prop (standing, sitting asanas, twists, forward & backbends, inversions etc)
Discussion about the benefits of a Chair Yoga practice
Yoga Anatomy: Introduction to functional Yoga anatomy and to the fascial system
What you receive:
a manual (workbook)* a certificate upon completion and
15 Credit hours Continuing Education for instructors registered with the International Yoga Alliance
Saturday, April 29th - 10:00-4:00 pm (Austria, CET) Sunday, April 30th - 10:00-4:00 pm. Each day will have a one-hour lunch break.
::: this training will take place in Feelgoodstudio 1040, Paulanergasse 13 in 1040 Vienna :::
Date
Started on Saturday, May 27, 2023
Multiple sessions - see schedule
Paulanergasse 13, 1040 Wien
Teacher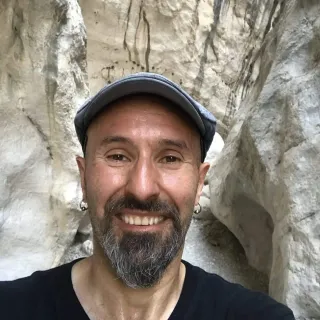 Bruno Teyssandier (EN, FR)
About
Bruno Teyssandier was an active mountain and mountain bike tour guide before he came in contact with yoga in 1998. After an accident in Nepal, which made him turn around 180 degrees, he decided to participate in a yoga teacher training in LA California in the fall of 1999. Since then, he has studied in India multiple times. He owned, directed and taught at Yoga 108 in Marin county (California) and New Orleans (Louisiana) for 7 years, from San Francisco to Beijing before he landed in Vienna in the summer of 2014. He has managed Feelgood yoga since 2019. His directions are firm but nurturing, he teaches from a warm heart and sense of humor, yet with strong focus.
Education
He graduated from many methods of Hatha Yoga included but not limited to Bikram Yoga (L.A California 1999), Iyengar Yoga Therapy Program (Poona, India 2000–2001), Iyengar Yoga Apprenticeship (San Francisco, California 2001–2002), Moksha/Modo yoga (Montreal, Canada 2010) , studied with Sri K Pattabhi Jois (Ashtanga yoga) in Mysore India for 9 months 2003–2004, Cameron Shane (Budokon Yoga) in Dusseldorf 2015, and mainly he has been a dedicated student of Manouso Manos, who is one of the most capable and experienced of the Senior Iyengar Yoga Teachers, for over 16 years. In 2015, he was introduced to Qigong and has been practicing weekly since as well as Tai Chi since 2016. In 2017, he discovered Kalaripayattu and spend 8 weeks in Kozhikode (Kerala-India) to study the basics of this art. In March 2018, he graduated from Flyhighyoga@ in Bali, a method that is inspired by the Iyengar yoga tradition using device to hang and be supported by belt hooked on the ceiling.
Schedule
Check out which dates are available for this event
| Date | Time | Location | Teacher |
| --- | --- | --- | --- |
| 05/27/2023 | 10:00 AM - 04:00 PM | Paulanergasse 13, 1040 Wien | Bruno Teyssandier (EN, FR) |
| 05/28/2023 | 10:00 AM - 04:00 PM | Paulanergasse 13, 1040 Wien | Bruno Teyssandier (EN, FR) |
Cancellation policy
kostenfreie Stornierung bis 7 Tage vor dem Training
Chair Yoga Teacher Training with Bruno Teyssandier
Date
Started on Saturday, May 27, 2023
Multiple sessions - see schedule