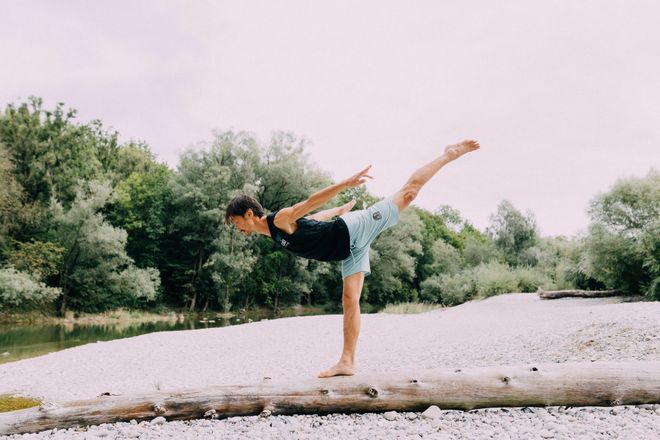 Liquid Flow - LIVE STREAM (engl.)
Video
Originally live streamed on
Tue, 25/01/22, 17:30 - 18:45 (75 min)
Facility/Studio
Kale & Cake
Available until
01/02/2022 18:45 o'clock
Price
13.00 €
Single ticket
13.00 €
Qualitrain-Mitglieder Online
25.00 €
14 Tage Starter Paket (25€ - 1,80€/Tag)
29.00 €
10 Tage Online Pass (29€ - 2,90€/Tag)
55.00 €
Alumni Tribe Pass YTT 2020
55.00 €
5er Online Karte - (55€ - 11€/Klasse)
55.00 €
Alumni Tribe Pass YTT 2021
55.00 €
Alumni Tribe Pass YTT Intensive 2021
75.00 €
30 Tage Online Pass - (75€ - 2,50€/Tag)
150.00 €
10er Karte (45/60 Min.) - Vor Ort
160.00 €
10er Karte (75+ Min.) - Vor Ort
69.00 €

/ month

90 Tage Online Pass
69.00 €

/ month

6 Month Journey
About the class
Liquid Flow A Vinyasa Flow practice that holds the structure and discipline of Ashtanga and Iyengar Yoga, infused with an immense creativity and dance-like flow... a fresh and inspired blend of classical and modern styles. Geeignet für alle Level.
Simon unterrichtet auf Englisch!
Die Stunde findet via Live Stream über ZOOM statt. Melde dich wie gewohnt für die Klasse an und folge dem Link in deinem Eversportsprofil. Solltest du dich über Qualitrain oder Gympass angemeldet habe, folge dem Link in der jeweiligen App deines Anbieters. 10 min vor Beginn kommt der/die Lehrer/in online.
17.30-18.45h // 75 MIN Stornierung bis 1h vor Beginn möglich.
About the trainer/teacher
Simon ist genau richtig für dich, wenn du Kreativität sowie anspruchsvolle, fließende und erdende Stunden möchtest.