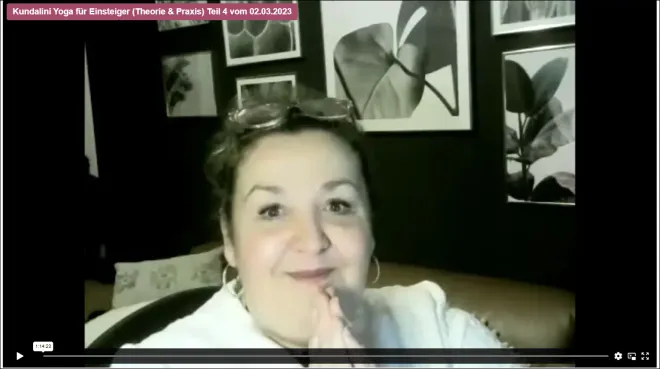 Kundalini Yoga für Einsteiger (Theorie & Praxis) Teil 4 vom 03.02.2023
Video
Availability after purchase
6 months
Price
5.00 €
Single ticket
45.00 €
Ganzer Kurs Kundalini Yoga Special
12.90 €

/ month

Mitgliedschaft Videos-on-Demand
49.00 €

/ month

All Inclusive Monats-Abo
About the class
Stunde 4 zum Thema "10 Körper im Kundalini Yoga" (Theorie & Kriya). Mantra ganz unten...
Hinweis: Am Anfang ist die Musik-Qualität schlecht - mein Fehler :/.
Diese Mini-Serie soll dazu dienen, Kundalini-Yoga kennenzulernen. Neben einer Praxis werde ich auch in jedem Termin Informationen & Wissenswertes dazu mit dir teilen.
"Kundalini Yoga wird oft das "Yoga des Bewusstseins" genannt. Ziel dieses Yogas ist es dich für den Alltag so vorzubereiten, dass Du ihn in all seinen Höhen und Tiefen mit Herz, Intuition und Verstand meistern kannst. Du stärkst intensiv dein Nervensystem und allein das ist ein riesiges Argument für Kundalini.
Eine Besonderheit ist auch das Konzept der 10 Körper - wovon einer der physische Körper ist. Die Arbeit findet also stets auf verschiedenen Ebenen statt.
Kundalini Yoga bietet zahlreiche thematisch in sich fest konzipierte Übungsreihen (Kriyas). Für Abwechlung ist gesorgt. Der Kurs fokussiert eine bodenständige Praxis im Bewusstsein spiritueller Möglichkeiten.
Feste Bestandteile: Aufwärmphase, Kriya, Entspannung, Meditation."
Stell dir bitte unbedingt etwas zu trinken neben die Matte (Wasser oder Tee). Es wird grundsätzlich barfuß praktiziert)
--------------------------------
EINSTIMMUNG:
=============
3 x
ONG NAMO GURU DEV NAMO
3 x
AAD GUREY NAMEH
JUGAAD GUREY NAMEH
SAT GURAY NAMEH
SIRI GURU DEV NAMEH
AUSSTIMMUNG:
==============
3x
MAY THE LONG TIME SUN
SHINE UPON YOU
ALL LOVE SURROUND YOU
AND THE PURE LIGHT
WITHIN YOU
GUIDE YOUR WAY ON
GUIDE YOUR WAY ON
Bei der letzten Wiederholung:
3x GUIDE YOUR WAY ON
3x
SAT NAM
-------------------
Mul Mantra (Lautschrift):
Ek Ong Kar
Sat Nam
Karta Purek
Nirbhao, Nirvär
Akal Muret
Adschunie
Saibhang, Gurprasad, Dschap
Aad Satsch
Dschugad Satsch
Häbhi Satsch Nanak(e)
Hooßie Bie Satsch.