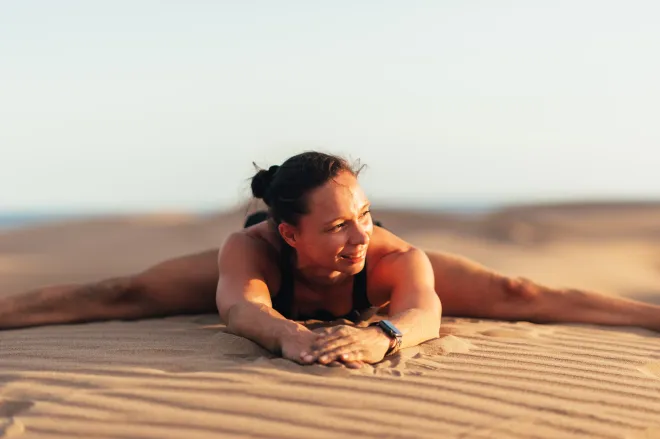 Stunde 3: Beweglichkeitsdefizite erkennen und verstehen
Video
Facility/Studio
Yoga and Pole Art by Selina
Availability after purchase
Unlimited availability
Price
| | |
| --- | --- |
| 60.00 € | Recording: Split & Straddle Intense Week |
About the class
Zu verstehen, was einen im Spagat ausbremst ist wichtig um überhaupt das Training richtig zu planen und zu gestalten. In diesem Video erfährst du mehr über typische Beweglichkeitsdefizite im Unterkörper!
About the trainer/teacher
Mein Name ist Selina und bin leidenschaftliche Sportlerin. Mit 16 Jahre begann ich mit dem Krafttraining und lernte die Vorzüge von Yoga kennen. Das ist mittlerweile 13 Jahre her. Vor 10 Jahren entdeckte ich meine dritte Leidenschaft: den Pole Sport. Meine Begeisterung für den Sport motivierte mich 2014 mein Studium zur Fitnessökonomin zu beginnen. 2017 beendete ich dieses erfolgreich mit einer Bachelorthesis über das Thema Yoga in der Schwangerschaft. Seit sechs Jahren bin ich nun als Kursleiterin in den Bereichen Yoga und Pole Sport tätig und ich liebe es! In meinen Kursen gebe ich dir reichlich Input und Fachwissen weiter, dass ich mir über die Jahre angeeignet habe. Neben der Trainertätigkeit bin ich begeisterte Autorin. Ich veröffentliche 2019 mein erstes Buch über das Training mit dem Yoga Rad. 2021 erfolgte die 2. Auflage in einem neuen Format. Zusätzlich schreibe ich für das Pole Art Magazine Fachartikel über den Pole Sport. Das Unterrichten und das Lehren von Fachwissen ist meine große Leidenschaft und Stärke. Ich gebe dir gern mein Wissen weiter und biete Workshop, Intensivkurse, Einzelstunden und regelmäßige Kurse an. Ich bin dein Wegbegleiter für deine sportlichen Ziele im Bereich Yoga, Pole Sport und Krafttraining! Seit Januar 2022 habe ich mir den Traum erfüllt eine eigenes Ausbildungsinstitut zu gründen. Die Yoga and Pole Art Academy. Ich bilde Pole Sport, Flexibility und Yoga Wheel Trainer aus. Schau doch gern mal vorbei bei www.yogaandpoleartacademy.de Du möchtest mich und mein Wesen kennenlernen? Dann hör dir doch gern auch mal die ein oder andere Folge aus meinem Podcast auf Spotify und Anchor an: Pole Dance Fitness I Krafttraining I Flexibility I Meditation & mehr.