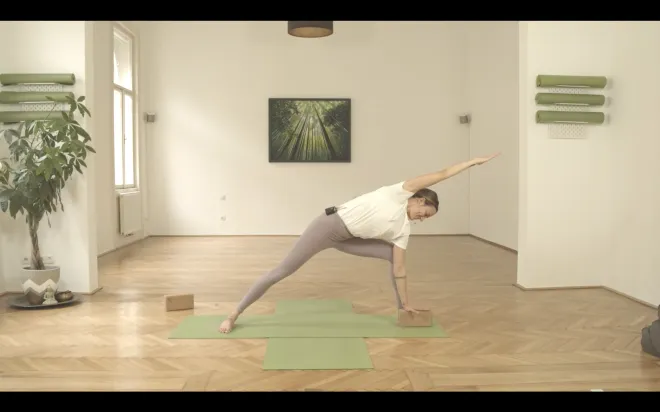 Yoga Basic mit Lisa S.
Video
Facility/Studio
Coming Hooomm
Availability after purchase
1 week
Price
10.00 €
Single ticket
10.00 €
10 Tage - 10 Euro
10.00 €
Einzelkarte Online
19.00 €
Einzelstunde/ Drop In
50.00 €
30 Tage unlimited Yoga
80.00 €
10erBlock Online-Klassen
95.00 €
Monatskarte ermäßigt
115.00 €
Monatskarte
135.00 €
10erBlock ermäßigt (Studenten,..)
150.00 €
10erBlock
900.00 €
Jahreskarte
49.00 €

/ month

Mitgliedschaft 4x/Monat
50.00 €

/ month

Online - Mitgliedschaft
74.00 €

/ month

Mitgliedschaft (Bindung) - Ermäßigt
89.00 €

/ month

Mitgliedschaft (Bindung)
About the class
Um dir den Einstieg in die Yogapraxis zu erleichtern bieten wir 60-minütige Einheiten für Yoga Neulinge an. In dieser Stunde erlernst du alle Übungen langsam, sanft und anatomisch korrekt auszuführen, um Verletzungen zu vermeiden. Wir beschäftigen uns nicht nur mit Körperhaltungen, sondern auch mit Atem- und Meditationsübungen. Es besteht die Möglichkeit auf all deine Fragen individuell einzugehen damit du optimal in deine Yogapraxis starten kannst. Geübt wird bei uns zu unterschiedlichster Musik, die für gute Laune sorgt. Wir streben das Gleichgewicht von Körper, Geist und Seele an.
About the trainer/teacher
Lisa kam 2005 zum ersten Mal in Berührung mit Yoga, primär angezogen von einer Faszination für indische sowie buddhistische Philosophie. Seit 2013 steht sie regelmäßig auf der Matte und absolvierte 2016 das Teachertraining im Stil des Ashtanga Vinyasa Yoga in der Yogawerkstatt Wien. Die studierte Sozialarbeiterin und Trainerin im Bereich Suchtprävention lebt in Wien, liebt die Berge und fremde Kulturen & Länder. An Yoga fasziniert sie am meisten, dass es ihr ermöglicht die Aufmerksamt von Außen zu sich selbst zu bringen um sich dadurch selbst im Hier und Jetzt intensiver zu begegnen. Beharrliches Üben eröffnet ihr einen Lernprozess sich der Qualität der Aktivitäten des Geistes bewusst zu werden und die Dinge anzunehmen lernen, wie sie eben sind. Auf die Matte zu steigen bedeutet für sie anzukommen, in ihrem Körper, im Atem und im gegenwärtigen Moment. Vor allem verspürt sie sehr viel Freude, bei der eigenen Praxis wie auch beim Unterrichten.