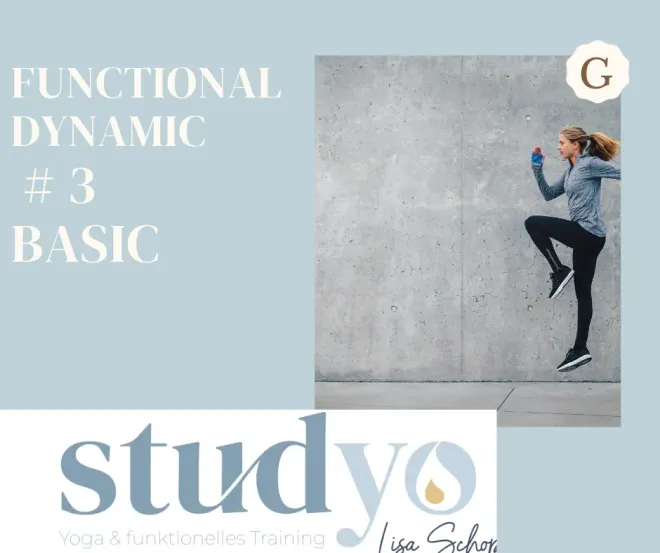 Functional Dynamic Basic # 3
Video
Facility/Studio
Studyo Lisa Schopp
Availability after purchase
24 hours
Price
9.00 €
Single ticket
99.00 €
Schnuppermonat
9.00 €

/ week

Video Membership
25.00 €

/ week

Online Unlimited Wochen Membership
About the class
Go with your Flow ist das Motto des dritten Teils unseres Aufbaukurses! Marion erweitert das Programm von Teil 1 und Teil 2 mit gezielten Übungen, die dein Herz Kreislaufsystem aktivieren und deine Grundkondition erhöhen! Du lernst, dich aus einer starken Körpermitte heraus zu bewegen. Schenkst auch deiner Beinmuskulatur neue Bewegungsmomente. Spaß am Bewegen liegt dabei immer im Vordergrund! Dich in Bewegung zu bringen und deine Grundkondition zu stärken ist klarer Fokus der Stunde! Ideal für einen frischen, energievollen Start in den Tag oder nach einem langen Tag im Büro! Have Fun!
About the trainer/teacher
Marion hat sich schon früh mit funktionellem Training beschäftigt. Mit mehr als 30 Jahren Berufserfahrung gehört sie wohl zu den arriviertesten TrainierInnnen auf diesem Gebiet. Ihre Bodystyling Stunden sind legendär und ihre Wirbelsäulengymnastik Einheiten ein Geheimtipp. 2005 entdeckte Marion in den Vereinigten Staaten auch Yoga für sich. Drei Jahre lang arbeitete sie intensiv mit Yogalehrerin Tricia Peak in Detroit mit dem Schwerpunkt Power Yoga zusammen.