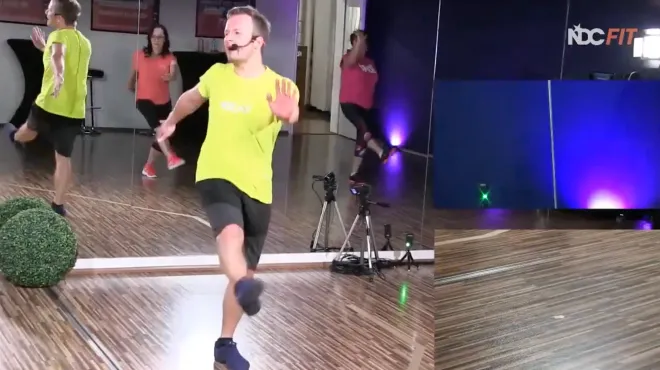 BaBoom! Legends 11.2021
Video
Facility/Studio
NDCFIT Tanzstudio
Availability after purchase
7 days
Price
15.00 €
Single ticket
15.00 €
NDC FIT Einzelticket
120.00 €
NDC FIT 10er-Block
119.00 €

/ month

Dance Card
About the class
Aufzeichnung vom 18.11.2021
Aus dem NDC FIT Tanzstudio in Villach: BaBoom!® ist ein Tanzprogramm mit einfachen Schrittfolgen und viel Tanz-Spaß – jede(r) kann gleich mitmachen. Eine mitreißende Stimmung, die dich ins Hier und Jetzt bringt und den Alltag für eine kurze Zeit vergessen lässt. Einfach mal zur mitreißenden Musik tanzen, die Lebensfreude spüren und sich eine kurze Auszeit vom Alltag nehmen.
Song-Auswahl:
Under The Moon Of Love – Showaddywaddy
Baby Keep Smiling – Lou Bega
Rockin' Robin – Jackson 5
Runaround Sue – Dion
Blame It On The Boogie – Jane McDonald
You Never Can Tell – Chuck Berry
Don't Go Breaking My Heart – Elton John / Kiki Dee
We Are A Family – Sister Sledge
Get Down On It – Kool & The Gang
Don't Stop Till You Get Enough – Michael Jackson
Disco Inferno – The Trammps
I Was Made For Loving You – KISS
I Hear You Knocking – Dave Edmunds
Sugar Sugar – The Archies
Waterloo – ABBA
Like I'm Gonna Lose You – Meghan Trainer, John Legend
About the trainer/teacher
René Puglnig kam bereits im frühen Alter von 8 Jahren zum Rock 'n' Roll-Tanzsport. Im österreichischen Nationalteam rockte er 2012 mit seiner damaligen Partnerin Nicole Schojer bis in die Top Ten beim Rock 'n' Roll-World Cup, B-Klasse, in Helsinki/Finnland und beendete anschließend seine aktive Turnierzeit. Seit 2020 bringt René Puglnig mit NDCFIT nun Tanz- und Fitness-Angebote für jedes Alter, ohne Tanzvorkenntnisse, nach Kärnten.