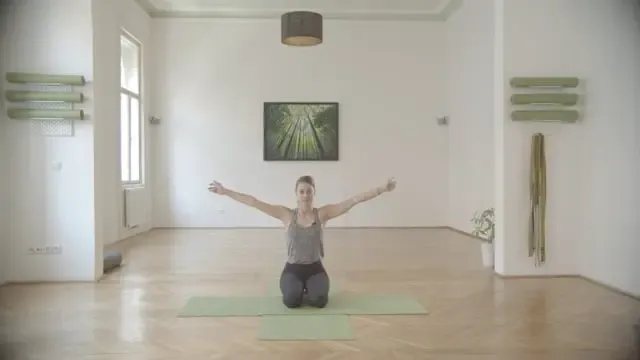 Yoga Open mit Caro
Video
Facility/Studio
Coming Hooomm
Availability after purchase
1 week
Price
10.00 €
Single ticket
10.00 €
10 Tage - 10 Euro
10.00 €
Einzelkarte Online
50.00 €
30 Tage unlimited Yoga
80.00 €
10erBlock Online-Klassen
95.00 €
Monatskarte ermäßigt
135.00 €
10erBlock ermäßigt (Studenten,..)
150.00 €
10erBlock
900.00 €
Jahreskarte
49.00 €

/ month

Mitgliedschaft 4x/Monat
50.00 €

/ month

Online - Mitgliedschaft
74.00 €

/ month

Mitgliedschaft (Bindung) - Ermäßigt
89.00 €

/ month

Mitgliedschaft (Bindung)
About the class
Yoga Open ist bei uns eine dynamische, kreative Form des Praktizierens. In einer stimmigen, fließenden Abfolge werden die Positionen eingenommen. Dazu begleitet dich moderne Musik die dich unterstützt noch tiefer in deine Praxis zu tauchen. Im Einklang mit deiner Atmung nimmst du kraftvolle Asanas ein ohne dabei Leichtigkeit und eine spielerische Note zu verlieren. Für diese Einheit bringst du am besten ein wenig Yogaerfahrung mit und besuchst davor einige Male eine Basic Klasse.
About the trainer/teacher
"Yoga hat mein Leben auf allen Ebenen zum Besseren verändert. Nichts erfüllt mich mehr, als diese Leidenschaft mit so vielen Menschen wie möglich zu teilen." Caro beschäftigt sich bereits seit vielen Jahren mit unterschiedlichen Konzepten rund um den Körper, Gesundheit und Ernährung. 2009 entdeckte sie Yoga für sich und fand darin einen Weg ihre Leidenschaften miteinander zu verbinden. Yoga ist seitdem ihre Energiequelle, ihr Ruhepol und ihr Ausdruck von Freiheit. Auf ihrer bisherigen Yogareise hatte sie das Glück, viele inspirierende Lehrer*innen von aller Welt zu treffen, einige Monate in Indien und Südostasien zu verbringen und verschiedene einprägsame Erfahrungen zu sammeln. Caro absolvierte eine Vielzahl an Fort- und Weiterbildungen: Master of Science in Ernährung und Sport, Ernährungstrainerin, Yoga & Pilates Lehrerin, Lehrgänge zu Functional Fitness, Faszien- und Beckenbodentraining und vieles mehr folgten. Sie empfindet es als ein Geschenk, ihre Schüler*innen auf ihrer Reise zu sich selbst zu begleiten, und sie durch ein neues Körperbewusstsein in ein gesünderes Leben zu führen.