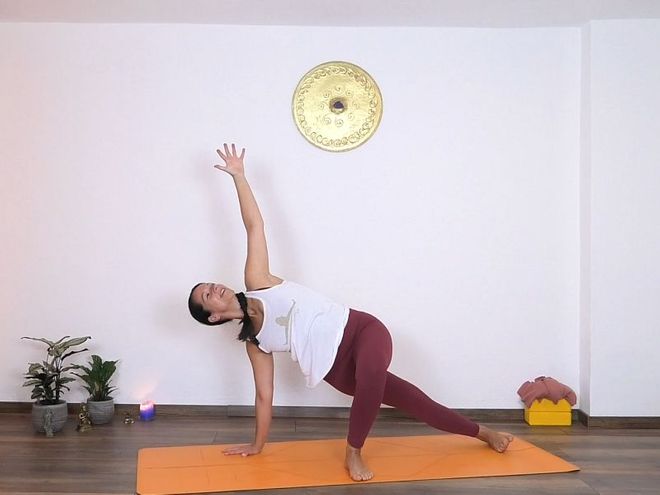 45 Min. VIDEO ANANYA Morning Yoga 25 Pkt.
Video
Originally live streamed on
Mon, 28/09/20, 07:30 - 08:15 (45 min)
Facility/Studio
ANANYA Yoga Wien
Available until
Unlimited availability
Price
5.00 €
Single ticket
35.00 €
Wochenkarte Online, Videos und Studio
16.00 €

/ month

Videothek unlimited Membership
28.00 €

/ week

Wochen-Mitgliedschaft ONLINE & Studio
72.00 €

/ 6 months

Videothek unlimited Membership 6 Monate
88.00 €

/ month

Membership 12 Monate ermäßigt
98.00 €

/ month

Monthly Unlimited ermäßigt
98.00 €

/ month

Membership 12 Monate
108.00 €

/ month

Monthly Unlimited
120.00 €

/ 12 months

Videothek unlimited Membership 12 Monate
About the class
Thema: "Vertrauen"
Diese Einheit enthält ca.: 15 Minuten Asanas 15 Minuten Pranayama - Surya & Chandra Bedhana Pranayama 15 Minuten Meditation
Diese Einheit wurde aufgezeichnet und steht dir in unserer Videothek zur Verfügung.
Die ANANYA Morning Yoga Einheit ist eine kurze Yoga-Einheit um Aufzuwachen, in Bewegung zu kommen damit du aktiv und ausgeglichen in deinen Tag starten kannst. Es gibt wenige Ansagen zur Ausrichtung daher solltest du schon Yoga-Erfahrung mitbringen. Wir fließen gemeinsam durch eine speziell für den Morgen zusammengestellte Sequenz.
Diese Einheit enthält ca. 15 Minuten Asana-Praxis (Yoga-Positionen), ca. 15 Minuten Pranayama (1 Atemübung) und ca. 15 Minuten Meditation.
Alle Infos zu den Online-Klassen findest du unter www.ananya.at
About the trainer/teacher
Eva gründete gemeinsam mit Carsten 2011 das ANANYA und unterrichtet Anusara Yoga. Rückenprobleme brachten sie zum Yoga. Eva probierte verschiedene Yogastile aus wie Bikram Yoga, Sivananda Yoga, Ashtanga Yoga und viele mehr. 2008 entdeckte sie die Liebe zu Anusara Yoga. 2009 startete sie die Anusara Yoga-Ausbildung in Berlin. Eva ist Anusara Certified Advanced Teacher Trainer (CATT), E-RYT500, YACEP, Certified Rolferin, absolvierte Yoga Therapy Ausbildungen und hat eine Shiatsu Ausbildung. Yoga ist für sie eine Lebenseinstellung - sie lebt ihr Yoga und begeistert mit ihrer kraftvoll herzlichen Art in ihren Yoga Einheiten. Eva unterrichtet Yoga Klassen, Workshops, Privates (Personal Training) im Ananya sowie Ausbildungen, Workshops und Retreats weltweit.