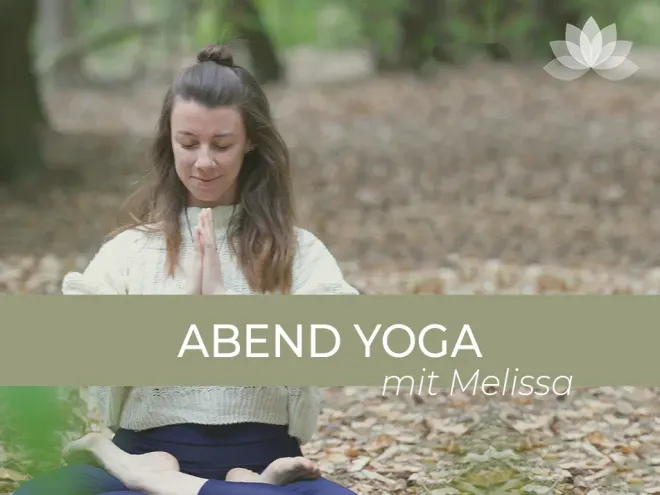 Abend Yoga / Ganzkörperpraxis / Vertrauen
Video
Availability after purchase
Unlimited availability
This video is currently not available for purchase.
Price
10.00 €
Single ticket
162.00 €
10er Karte - 75 Minuten Klassen
59.00 €

/ month

MAGIBA Medi Abo
79.00 €

/ month

MAGIBA Maxi Abo
About the class
Abend Yoga unterstützt Dich den Tag loszulassen, zu entspannen und einen ruhigen Schlaf zu finden.
Genieße durch Yinyasa Elemente, dass Bewegung und Atmung eins werden. Spüre die Auswirkung der tiefen Dehnungen des Yin Yoga und erfahre durch die längeren Haltephasen der Asanas, wie tiefer gelegene Gewebsschichten (Fasziengewebe) erreicht und entspannt werden. So kommst Du mehr ins Loslassen, kannst verklebte Faszien auflösen und Dich von alten gespeicherten Emotionen befreien.
In der heutigen Klasse geht es ganz um das Thema Vertrauen - hierfür lenken wir den Fokus auf deinen gesamten Körper.
About the trainer/teacher
Melissa ist 28 Jahre und hat neben Ihres dualen BWL Studiums Yoga durch ihren Arbeitgeber entdeckt. Sie hat durch Yoga gelernt den stressigen Arbeits- und Hochschulalltag zu managen, körperlich aktiv und mental gesund zu bleiben. Es ist der Dreiklang im Yoga von Körper, Geist und Seele, der Yoga für Sie zu einem der wichtigsten Gesundheitsansätze der heutigen Zeit macht. Melissa ist zertifizierte Yogalehrerin, Hormon Yoga und Stressmanagement Trainerin, Yin Yoga Lehrerin und befindet sich aktuell in der Ausbildung zur Heilpraktikern und Weiteren.