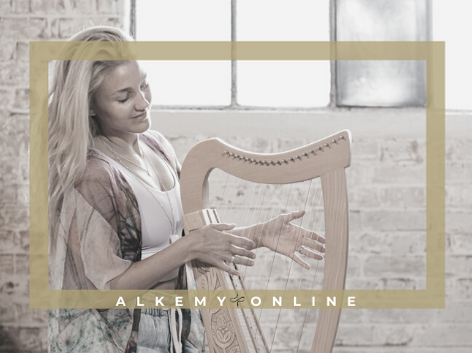 ONLINE Sound Asleep: Bedtime Meditation, Yin Yoga & Sound Healing (EN)
Video
Originally live streamed on
Tue, 25/01/22, 21:45 - 23:00 (75 min)
Facility/Studio
ALKEMY Yoga & Healing
Available until
01/02/2022 23:00 o'clock
Price
15.00 €
Single ticket
30.00 €
Schnupperwoche/ Trial Week
85.00 €
5er Block STUDIO
108.00 €
10er Block ONLINE
160.00 €
10er Block STUDIO
45.00 €

/ month

ONLINE Jahreskarte
55.00 €

/ month

ONLINE Monatskarte
88.00 €

/ month

Jahreskarte UNLIMITED (Studio + Online)
99.00 €

/ month

Monatskarte UNLIMITED (Studio + Online)
About the class
Get into your Pyjama and onto your bed or yoga mat, and join Holly for 75 minutes of pressing pause, slowing down and taking precious time to tune into YOU. After calming the mind and body through meditation and gentle stretching, Holly will guide you through a beautiful sound journey with crystal singing bowls and her singing voice to help you slip into a peaceful night's sleep Simple and magical.
THIS IS A SISTERHOOD CIRCLE OFFERING - LADIES ONLY.
About the trainer/teacher
From miming Spice Girls songs into a hairbrush to an audience of barbie dolls, to belting out original pop tunes on the London O2 stage to 20,000 people whilst supporting Westlife back in her girl-band days, Holly's journey has taken some unexpected turns! When the touring ended, Holly migrated to the recording studio, top-line writing for various DJs and producers and hitting the charts with her dance tracks. Through a particularly difficult time, yoga appeared in Holly's life and quickly became her peaceful pause button whilst everything else felt chaotic. Holly now finds herself having once again been led back to her musical roots, helping others to find peace and connection through singing healing mantras to seas of sleeping yogis and playing her magical instruments at various yoga events and studios across the globe. Holly's yoga practice eventually drew to the surface a deep desire to help people find conscious connection and their own inner wisdom, leading her to train as a yoga teacher and sound healer. Her intention is to help lead the world back towards love and connection, through the power and unity of music, sound and yoga.