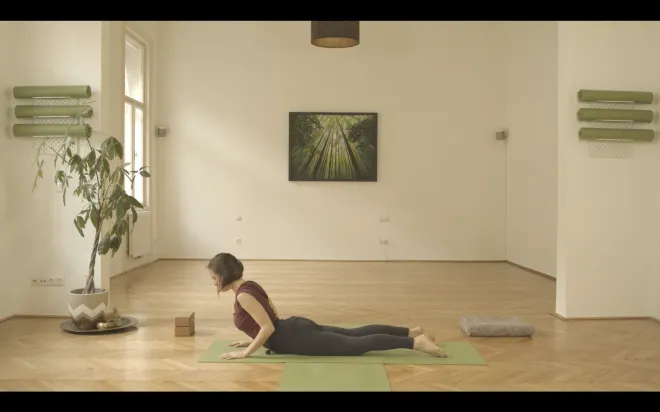 Yoga Basic mit Lisa N.
Video
Facility/Studio
Coming Hooomm
Availability after purchase
1 week
Price
10.00 €
Single ticket
10.00 €
10 Tage - 10 Euro
10.00 €
Einzelkarte Online
19.00 €
Einzelstunde/ Drop In
50.00 €
30 Tage unlimited Yoga
80.00 €
10erBlock Online-Klassen
95.00 €
Monatskarte ermäßigt
115.00 €
Monatskarte
135.00 €
10erBlock ermäßigt (Studenten,..)
150.00 €
10erBlock
900.00 €
Jahreskarte
49.00 €

/ month

Mitgliedschaft 4x/Monat
50.00 €

/ month

Online - Mitgliedschaft
74.00 €

/ month

Mitgliedschaft (Bindung) - Ermäßigt
89.00 €

/ month

Mitgliedschaft (Bindung)
About the class
Um dir den Einstieg in die Yogapraxis zu erleichtern bieten wir 60-minütige Einheiten für Yoga Neulinge an. In dieser Stunde erlernst du alle Übungen langsam, sanft und anatomisch korrekt auszuführen, um Verletzungen zu vermeiden. Wir beschäftigen uns nicht nur mit Körperhaltungen, sondern auch mit Atem- und Meditationsübungen. Es besteht die Möglichkeit auf all deine Fragen individuell einzugehen damit du optimal in deine Yogapraxis starten kannst. Geübt wird bei uns zu unterschiedlichster Musik, die für gute Laune sorgt. Wir streben das Gleichgewicht von Körper, Geist und Seele an.
About the trainer/teacher
"Yoga begleitet mich schon lange durch verschiedenste Phasen meines Lebens und meine Leidenschaft wächst mit den Jahren immer weiter. Ich bin jedes mal aufs Neue begeistert, wie unglaublich wohltuend dieses fließende Bewegen mit dem eigenen Atem ist." Lisa hat vor 14 Jahren mit Ashtanga Yoga begonnen und seither verschiedenste Stile kennen und lieben gelernt. Im Rahmen einer 2-jährigen Yoga und Ayurveda Ausbildung bei Sonja Rössler ist sie tiefer in die Welt des Yoga eingetaucht und hat sich auch mit deren Philosophie und Lebensweise beschäftigt. Zusätzlich wurde sie von Veni Labi in die Techniken des Flow-Nuad eingeführt. Als Ergotherapeutin arbeitet Lisa mit PatientInnen aller Altersstufen und profitiert auch im Yoga von ihrem therapeutischen Vorwissen, Erfahrungen und Fortbildungen, wie z.B. im Bereich Spiraldynamik. Die studierte Jazz-Sängerin sorgt mit ihrer klaren, ruhigen Stimme für eine angenehme Atmosphäre und lässt gerne musikalische Elemente in ihre Stunden einfließen.