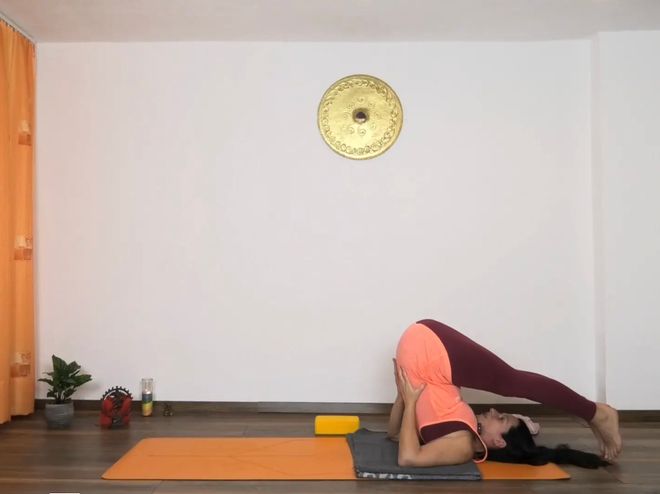 60 Min. ANANYA Chill & Relax - Wer bin ich?
Video
Facility/Studio
ANANYA Yoga Wien
Availability after purchase
3 months
Price
9.00 €
Single ticket
35.00 €
Wochenkarte Online, Videos und Studio
59.00 €
Testkarte 1 Monat
16.00 €

/ month

Videothek unlimited Membership
28.00 €

/ week

Wochen-Mitgliedschaft ONLINE & Studio
72.00 €

/ 6 months

Videothek unlimited Membership 6 Monate
88.00 €

/ month

Membership 12 Monate ermäßigt
98.00 €

/ month

Monthly Unlimited ermäßigt
98.00 €

/ month

Membership 12 Monate
108.00 €

/ month

Monthly Unlimited
120.00 €

/ 12 months

Videothek unlimited Membership 12 Monate
About the class
Diese Einheit wurde am 17. Dezember 2020 um 19.30 Uhr aufgezeichnet. Thema: Wer bin ich und wenn ja, wieviele? Die ANANYA Yoga Chill & Relax Einheit ist perfekt um am Abend nach einem intensiven Tag etwas Gutes für Körper & Geist zu tun. Ein wunderbarer Weg um Verspannungen im Körper zu lösen und das Nervensystem zu beruhigen. Ausgleichen, ausstrecken und entspannen.
About the trainer/teacher
Eva gründete gemeinsam mit Carsten 2011 das ANANYA und unterrichtet Anusara Yoga. Rückenprobleme brachten sie zum Yoga. Eva probierte verschiedene Yogastile aus wie Bikram Yoga, Sivananda Yoga, Ashtanga Yoga und viele mehr. 2008 entdeckte sie die Liebe zu Anusara Yoga. 2009 startete sie die Anusara Yoga-Ausbildung in Berlin. Eva ist Anusara Certified Advanced Teacher Trainer (CATT), E-RYT500, YACEP, Certified Rolferin, absolvierte Yoga Therapy Ausbildungen und hat eine Shiatsu Ausbildung. Yoga ist für sie eine Lebenseinstellung - sie lebt ihr Yoga und begeistert mit ihrer kraftvoll herzlichen Art in ihren Yoga Einheiten. Eva unterrichtet Yoga Klassen, Workshops, Privates (Personal Training) im Ananya sowie Ausbildungen, Workshops und Retreats weltweit.