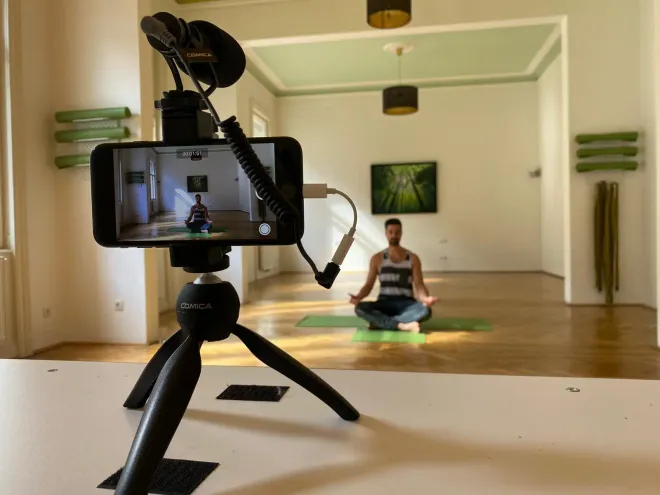 Yin Yoga (ONLINE-KURS)
Video
Originally live streamed on
Sun, 01/10/23, 17:00 - 20:00 (180 min)
Facility/Studio
Coming Hooomm
Available until
08/10/2023 20:00 o'clock
Price
10.00 €
Single ticket
10.00 €
10 Tage - 10 Euro
10.00 €
Einzelkarte Online
19.00 €
Einzelstunde/ Drop In
50.00 €
30 Tage unlimited Yoga
80.00 €
10erBlock Online-Klassen
95.00 €
Monatskarte ermäßigt
115.00 €
Monatskarte
135.00 €
10erBlock ermäßigt (Studenten,..)
150.00 €
10erBlock
900.00 €
Jahreskarte
49.00 €

/ month

Mitgliedschaft 4x/Monat
50.00 €

/ month

Online - Mitgliedschaft
74.00 €

/ month

Mitgliedschaft (Bindung) - Ermäßigt
89.00 €

/ month

Mitgliedschaft (Bindung)
About the class
Melde dich entweder mit deinen normalen Produkten (Mitgliedschaft, 10er Block,…), oder mit mit einem vergünstigten Online-Produkt für die Klasse deines Lieblingslehrers an.
Der Link zur Online-Übertragung steht dir ab 15 Minuten vor Klassenbeginn in der Eversports App und im Widget unter 'Meine Buchungen'/'Aktivitäten' zur Verfügung und so lange einsehbar, wie die Einheit im Stundenplan eingetragen ist. Um die Buchungen zu sehen, musst du in deinem Eversports Profil angemeldet sein. Mit einem Klick auf "Jetzt zum Online Stream" wirst du auf die entsprechende Seite weitergeleitet und du bist online dabei!
Du möchtest flexibel praktizieren, oder hast die Anmeldung für die Klasse deines Lieblingslehrers verpasst? Kein Problem, die Klasse wird anschließend als Video auf unserer Plattform hinterlegt und ist dort eine Woche verfügbar. Klicke in der App oder im Video auf dein Reiter Video und du siehst alle verfügbaren Videos.
Yin Yoga: Unser Alltag ist voller Dynamik mit mehr oder weniger permanenter Aktivität und Schnelllebigkeit. Immer weniger Raum scheint für das einfache Sein und Innehalten da zu sein. Yin Yoga eröffnet diesen Raum und stellt mit seinen anstrengungslos gehaltenen Asanas einen wunderbaren Ausgleich zu unserem Yang orientierten Alltag dar.
About the trainer/teacher
"Yoga hat mein Leben auf allen Ebenen zum Besseren verändert. Nichts erfüllt mich mehr, als diese Leidenschaft mit so vielen Menschen wie möglich zu teilen." Caro beschäftigt sich bereits seit vielen Jahren mit unterschiedlichen Konzepten rund um den Körper, Gesundheit und Ernährung. 2009 entdeckte sie Yoga für sich und fand darin einen Weg ihre Leidenschaften miteinander zu verbinden. Yoga ist seitdem ihre Energiequelle, ihr Ruhepol und ihr Ausdruck von Freiheit. Auf ihrer bisherigen Yogareise hatte sie das Glück, viele inspirierende Lehrer*innen von aller Welt zu treffen, einige Monate in Indien und Südostasien zu verbringen und verschiedene einprägsame Erfahrungen zu sammeln. Caro absolvierte eine Vielzahl an Fort- und Weiterbildungen: Master of Science in Ernährung und Sport, Ernährungstrainerin, Yoga & Pilates Lehrerin, Lehrgänge zu Functional Fitness, Faszien- und Beckenbodentraining und vieles mehr folgten. Sie empfindet es als ein Geschenk, ihre Schüler*innen auf ihrer Reise zu sich selbst zu begleiten, und sie durch ein neues Körperbewusstsein in ein gesünderes Leben zu führen.