Infoworkshop zum 300h Advanced Yoga Teacher Training 2023/24
Online stream
Starts on Saturday, 20/08/2022
Price
Description:
Always a student! Auch wenn wir noch soviel unterrichten und anleiten, dann bleiben wir doch immer Lernende. Dabei lernen wir von unseren Teilnehmerinnen, vom Leben und natürlich auch von anderen Lehrerinnen.
Tatsächlich wird es nie den Moment geben, an dem du sagst: "Ich bin fertig."
Vielmehr wird der Moment kommen, an dem du sagst: "Jetzt bin ich bereit für neuen Input und neue Inspiration. Ich möchte neue Zugänge lernen und über meinen Tellerrand blicken. Ich bin bereit Neues mit Altem zu verschmelzen, denn ich weiß, es kommt eine ganz einzigartige Mischung dabei heraus."
Der wichtigste Faktor neben all dem breitgefächerten Wissen, das du in dieser Ausbildung bekommst, bist du.
Du bist der Alchemist, der das Wissen auf ganz einzigartige Weise verbindet, kombiniert und transfomiert, zu deinem ganz eigenen Stil.
Bist du bereit?
300 Stunden – 11 erfahrene Yogalehrer*Innen – 1,5 Jahre In 300 Stunden verteilt über ca. 1,5 Jahre werden dir 11 erfahrene Yogalehrer*Innen ihr Wissen zu verschiedenen Themenbereichen und Expertisen weitergeben und dich auf deinem Yogalehrerweg zu dir selbst und deinem eigenen Stil begleiten.
THIS IS ME Die Grundausbildung war der erste Schritt zum YogalehrerIn sein. Wir unterrichten und experimentieren, lernen von unseren Yogis, lernen uns selbst in der Rolle desder Yogalehrer*in kennen und merken, dass wir niemals fertig sind. Es gibt immer noch etwas zu wissen, etwas zu spüren, etwas bewusster zu erfahren für deinen Yogaunterricht und deinen Blick auf Yoga, Bewusstsein, Miteinander uvm.
Die vielen unterschiedlichen Inputs der großartigen Lehrenden in dieser Ausbildung werden dir eine große Inspirationsquelle sein und das einerseits für dich als Yogalehrer*in und deinen Yogaunterricht und natürlich auch für dich als Mensch und Seele.
Die Teilnahme am Infoworkshop ist kostenlos. Die Teilnahme kann vor Ort im Studio oder auch online von zuhause aus erfolgen.
Online stream
There is an online stream available for this activity. To participate, take the following steps:
This studio uses Zoom as their online streaming provider. Download the according app to your laptop, tablet or smartphone
Access to the online livestream is available 15 minutes before the start of the activity. Simply go to "My bookings" and click on "Join online stream now" to be redirected to the corresponding page
With some streaming providers (e.g. Zoom) it is possible for participants to see each other. However, it is theoretically possible to deactivate the camera function. The name you enter when entering the online meeting room is displayed to other participants. However, you can always change your name (e.g. only the initials). Please note: Individual rules for online participation may apply for each class or venue.
Teacher :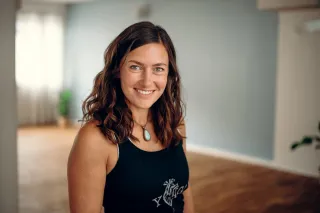 Sabine
Dates:
| | | | | |
| --- | --- | --- | --- | --- |
| 1. | 20/08/2022 | 18:30 - 20:00 | Hoffmanngasse 12, 9020 Klagenfurt | Sabine |
| 2. | 17/09/2022 | 18:30 - 20:00 | Hoffmanngasse 12, 9020 Klagenfurt | not specified |
* All prices including VAT