Yoga Grundkurs (Lena Brunner & Julie Rakus)
Online stream
Starts on Friday, 16/10/2020
Description:
Du bist Yoga AnfängerIn, WiedereinsteigerIn oder schon länger auf der Suche nach einem passenden Grundkurs für Yoga. Wunderbar hier ist er :)
Dieser zehnwöchige Kurs (10 Einheiten) bietet Dir den optimalen (Wieder-)Einstieg in Deine Praxis.
Es erwarten Dich aufbauende Inhalte:
Körperübungen (Asanas)
grundlegende Atemübungen (Pranayama)
Einstieg in die Yoga Philosophie
Freude & Übung im Hier und Jetzt zu sein
zahlreiche Tipps und Tricks für Deine eigene Yogapraxis
Sonnengruß (Surya Namaskar) mit einigen Variationen
klassische stehende Positionen: "Krieger (Virabhadrasana)", "Dreieck (Trikonasana)" und "Baum (Vrksasana)", sowie sitzende und liegende Positionen, die abhängig davon, in welcher Ausrichtung sie geübt werden, großartige Veränderungen mit sich bringen
der Einsatz von verschiedenen Hilfsmitteln, wie z.B. Blöcken, Gurten, Polstern, so dass Du künftig genau weißt, wie Dir welches Hilfsmittel nützlich sein kann
Insgesamt erwartet Dich eine Mischung aus fordernden Übungen und komplett entspannten Phasen — Du wirst die heilsame Wirkung des Yoga auf Körper, Geist und Seele spüren!
Der nächste Kurs startet am 16.10.2020 und wird von Lena Brunner und Julie Rakus geleitet.
Termine: 
16.10.20 23.10.20 30.10.20 06.11.20 13.11.20 20.11.20 27.11.20 04.12.20 11.12.20 18.12.20
Für Grundkurse sind keine Vorkenntnisse erforderlich.
Online stream
There is an online stream available for this activity. To participate, take the following steps:
Make sure to read the description of your booked activity in advance to know which streaming provider your studio. Download the necessary app to your laptop, tablet or smartphone
Access to the online livestream is available 15 minutes before the start of the activity. Simply go to "My bookings" and click on "Join online stream now" to be redirected to the corresponding page
With some streaming providers (e.g. Zoom) it is possible for participants to see each other. However, it is theoretically possible to deactivate the camera function. The name you enter when entering the online meeting room is displayed to other participants. However, you can always change your name (e.g. only the initials). Please note: Individual rules for online participation may apply for each class or venue.
Teacher :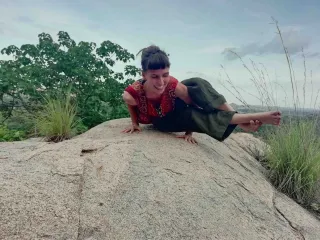 Lena Brunner (DE, EN)
Für Lena heißt Yoga sich selbst besser kennen und lieben zu lernen, Neugierde am Sein zu haben, und gleichzeitig Nichts sein zu müssen. Eine regelmäßige Praxis gibt Lena die Möglichkeit sich selbst zu beobachten und zuzuhören und genau das kommuniziert sie in ihren Stunden. Momentan unterrichtet sie All Level Stunden und entspannende Einheiten. Mehr Infos zu Lena findet ihr auf der Homepage: https://www.feelgoodstudio.at/project/lena-brunner/
Dates:
| | | | | |
| --- | --- | --- | --- | --- |
| 1. | 16/10/2020 | 17:00 - 18:30 | Burggasse 31, 1070 Wien | Lena Brunner (DE, EN) |
| 2. | 23/10/2020 | 17:00 - 18:30 | Burggasse 31, 1070 Wien | Lena Brunner (DE, EN) |
| 3. | 30/10/2020 | 17:00 - 18:30 | Burggasse 31, 1070 Wien | Lena Brunner (DE, EN) |
| 4. | 06/11/2020 | 17:00 - 18:30 | Burggasse 31, 1070 Wien | Lena Brunner (DE, EN) |
| 5. | 13/11/2020 | 17:00 - 18:30 | Burggasse 31, 1070 Wien | Lena Brunner (DE, EN) |
| 6. | 20/11/2020 | 17:00 - 18:30 | Burggasse 31, 1070 Wien | Lena Brunner (DE, EN) |
| 7. | 27/11/2020 | 17:00 - 18:30 | Burggasse 31, 1070 Wien | Lena Brunner (DE, EN) |
| 8. | 04/12/2020 | 17:00 - 18:30 | Burggasse 31, 1070 Wien | Lena Brunner (DE, EN) |
| 9. | 11/12/2020 | 17:00 - 18:30 | Burggasse 31, 1070 Wien | Lena Brunner (DE, EN) |
| 10. | 18/12/2020 | 17:00 - 18:30 | Burggasse 31, 1070 Wien | Lena Brunner (DE, EN) |
* All prices including VAT