Restorative Yoga Teacher Training
Starts on Saturday, 04/09/2021
Price 360.00 €
Description:
Continuing education hours: 15 Contact Hours 3 Non-Contact Hours
Educational Categories Techniques, Training & Practice (TTP) Teaching Methodology (TM) Anatomy & Physiology (AP) Yoga Philosophy, Lifestyle & Ethics (YPLE)
Description Restorative Yoga, a practice of conscious relaxation in selected and safely guided asanas, is a great tool for Yoga teachers (and all of us) to down-regulate our nervous system with tremendous effect on body, mind and soul. The practice of Restorative Yoga is exploring what already is within us. Restorative Yoga helps us to re-store equanimity, balance, deep relaxation and to re-establish the timeless wisdom within us that supports us in facing and overcome stormy, challenging, and seemingly desperate circumstances.
The 18 hours Restorative Yoga Teacher Training and the tools provided throughout the course will enable the participants to create and safely teach down-regulating as well as up-regulating Restorative Yoga sequences for different students and occasions.
The following topics will be covered: • Introduction: What is Yoga? What is Restorative Yoga? • The mental and physical benefits of a restorative Yoga practice. • Short history of Restorative Yoga. • How to create and safely teach a Restorative Yoga sequence. • Qualities of a (Restorative) Yoga teacher. • The use of props & cueing. • Philosophy and knowledge behind Restorative Yoga. • Anatomy of stress and its impact on brain and body (the human nervous system, conditions of relaxation, the stress response etc.) • Practice of different types of Restorative Yoga sequences.
The complete course will be taught in GERMAN!
It is designed for new and advanced Yoga teachers as well as e.g. health practitioners who want to offer this calming practice to their clients.
Trainees of this Restorative Yoga Teacher training will receive: • a certificate of completion • 18 hours Yoga Alliance continuing education for Registered Yoga Teachers • a comprehensive manual • templates for Restorative Yoga sequences
Students that are enrolled in our Townhouse Yoga 300 hours Advanced multi-style Yoga Teacher training do not have to separately enroll in this course.
Teacher :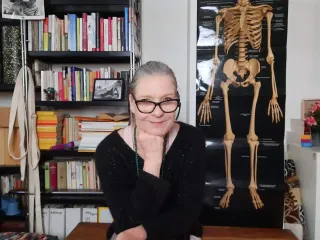 Eva-Maria Hinterwirth (DE)
»Yoga ist für mich nicht nur Arbeit am und mit dem Körper. Mit Yoga habe ich gelernt, dass die verschiedenen Bereiche des Lebens – Beziehung, Arbeit, Ernährung, Lebensziele, aber auch Gefühle wie Trauer, Verlust, Freude, Bereicherung – nicht nebeneinander stehen, sondern sich nach und nach zu einem Ganzen zusammenfinden können. Das eine schließt das andere ein; jeder Bereich ist Teil des anderen, jedes Gefühl bereichert das andere. Dabei unterstützt mich Yoga an jedem Tag. Mit Yoga habe ich auch gelernt, mehr auf mich selbst zu achten, Erlebnisse, Gefühle anzunehmen als das, was sie sind: konstitutiver Teil des Ganzen und von mir. Auf dem Weg dorthin haben mich viele LehrerInnen begleitet, angeleitet und bereichert, allen voran Paul Dallaghan, John Scott und Horst Rinnerberger (Ashtanga Yoga). Mit Barbra Noh, Alex Kröker, Bridget Woods-Kramer, Jordan Bloom und Katchie Ananda durfte ich Anusara Yoga kennenlernen; mit Aadil Palkhivala und Usha Devi Iyengar Yoga, mit Sean Corn und Bryan Kest Power Yoga, mit Reno Rittiner und Doug Keller Yoga Therapie, mit Sadie Nardini Core Strength Vinyasa Yoga, mit David Kim und Bernie Clark Yin Yoga und mit Mark Stephens Sequencing & Adjustment. Ich bemühe mich, das umzusetzen, was mir alle meine wunderbaren LehrerInnen mitgegeben haben: dass jeder Mensch, jeder Körper einzigartig ist. Und dass jeder von uns natürliche Intelligenz, natürliches Mitgefühl und natürliche Offenheit besitzt.«
Dates:
| | | | | |
| --- | --- | --- | --- | --- |
| 1. | 04/09/2021 | 10:00 - 17:30 | Burggasse 31, 1070 Wien | Eva-Maria Hinterwirth (DE) |
| 2. | 05/09/2021 | 10:00 - 17:30 | Burggasse 31, 1070 Wien | Eva-Maria Hinterwirth (DE) |
* All prices including VAT