Infoabend Yogalehrer*innenausbildung 200 h bis 500 h NUR ONLINE
Online stream
Starts on Friday, 28/05/2021
Description:
Frieden beginnt damit, dass sich jeder von uns jeden Tag um seinen Körper und seinen Geist kümmert. 'Thích Nhất Hạn', Mönch
In diesen zwei Stunden erfährst du, was dich in der Ausbildung erwartet, wie die 200 h BasisyogalehrInnenausbildung aufgebaut ist und die 300 bzw. 500 h Ausbildung ergänzt.
Wie es sich gewerberechtlich verhält und welche Möglichkeiten du nach dieser(n) Ausbildung(en) hast.
Wenn du Fragen hast, melde dich gerne.
Anmeldung unter 0664 4945724 unbedingt erforderlich.
Der Infoabend kann online via Zoom besucht werden.
Den Zoom Link erhältst du sodann nach Anmeldung obiger Handy Nr. persönlich oder via whatsapp.
Online stream
There is an online stream available for this activity. To participate, take the following steps:
This studio uses Zoom as their streaming provider to online stream their activities. Download the according software or app to your laptop, tablet or smartphone.
The access to the online stream is available 15 minutes before the start of the activity. You can find the link for the online stream in your online profile under "My bookings". With a click on "Join online stream now" you will be forwarded to the corresponding page and you join the activity online!
Specific streaming providers, e.g. Zoom, allow participants to see each other through the video camera. If you do not want to show yourself or the personal environment, you can deactivate the camera function or cover the camera. The name you enter when you join the online meeting room will be shown to other participants. However, you can change your name at any time (e.g. only specify the initials).
Teacher :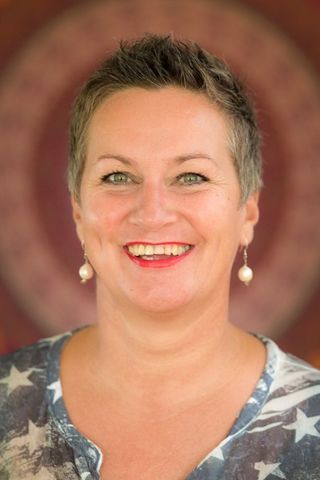 Andrea
Andrea unterrichtet nach klaren Ausrichtungsprinzipien, um eine gesundheitsfördernde Wirkung zu erreichen. Ihre stark ausgeprägte Wahrnehmungsfähigkeit führt dazu, dass jede Yogaeinheit darauf aufgebaut ist, welche Energie von den TeilnehmerInnen bei ihr ankommen. Nicht selten hört sie nach der Einheit: "Oftmals hab ich das Gefühl, du machst die Einheiten genau für mich. Du triffst immer genau das, was mich gerade beschäftigt und bietest mir Möglichkeiten oder sie sind plötzlich da:"
Dates:
| | | | | |
| --- | --- | --- | --- | --- |
| 1. | 28/05/2021 | 18:00 - 20:00 | Jormannsdorfer Straße 28, 7431 Bad Tatzmannsdorf | Andrea |
* All prices including VAT