Yoga Aufbaukurs 2 - 14.09.-02.11 (7 Wochen) ONLINE LIVE
Online stream
Starts on Wednesday, 14/09/2022
Price 135.00 €
Description:
Ist man erstmals mit den Abläufen vertraut, kann Yoga zunehmend seine Wirkung nicht nur auf körperlicher, sondern auch auf mentaler und energetischer Ebene entfalten. Im Aufbaukurs 2 werden wir unsere Yoga Technik weiter vertiefen. Ziel ist es in den Genuss des Moments zu gelangen und leichter in einen Zustand voll Vitalität, Fokussiertheit und Losgelöstheit. Wir werden uns auch spielerisch an die eine oder andere fortgeschrittene Asana herantasten oder vielleicht neue Atemtechniken erproben. Für den Aufbaukurs 2 solltest du den Grund- und den Aufbaukurs 1 besucht haben.
Online stream
There is an online stream available for this activity. To participate, take the following steps:
Make sure to read the description of your booked activity in advance to know which streaming provider your studio. Download the necessary app to your laptop, tablet or smartphone
Access to the online livestream is available 15 minutes before the start of the activity. Simply go to "My bookings" and click on "Join online stream now" to be redirected to the corresponding page
With some streaming providers (e.g. Zoom) it is possible for participants to see each other. However, it is theoretically possible to deactivate the camera function. The name you enter when entering the online meeting room is displayed to other participants. However, you can always change your name (e.g. only the initials). Please note: Individual rules for online participation may apply for each class or venue.
Teacher :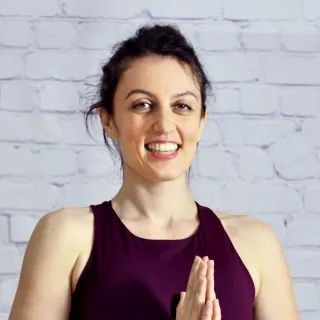 Nuschin
Dates:
| | | | | |
| --- | --- | --- | --- | --- |
| 1. | 14/09/2022 | 19:30 - 20:45 | Donaufelder Straße 203/DG, 1220 Wien | Nuschin |
| 2. | 21/09/2022 | 19:30 - 20:45 | Donaufelder Straße 203/DG, 1220 Wien | Nuschin |
| 3. | 28/09/2022 | 19:30 - 20:45 | Donaufelder Straße 203/DG, 1220 Wien | Nuschin |
| 4. | 05/10/2022 | 19:30 - 20:45 | Donaufelder Straße 203/DG, 1220 Wien | Nuschin |
| 5. | 12/10/2022 | 19:30 - 20:45 | Donaufelder Straße 203/DG, 1220 Wien | Nuschin |
| 6. | 19/10/2022 | 19:30 - 20:45 | Donaufelder Straße 203/DG, 1220 Wien | Nuschin |
| 7. | 02/11/2022 | 19:30 - 20:45 | Donaufelder Straße 203/DG, 1220 Wien | Nuschin |
* All prices including VAT