Pilates Kurs 16.09.-04.11. (8 Wochen) ONLINE LIVE
Online stream
Starts on Friday, 16/09/2022
Price from 5.00 €
Description:
Dieses Ganzkörpertraining basiert auf der Stärkung der tiefen Rumpfmuskulatur (Bauch, Rücken, Beckenboden). Mit Hilfe der klassischen Pilates Übungsreihe wirst du deine Stabilität und Beweglichkeit verbessern. Ergänzende Übungen zum Pilates Repertoire sorgen dafür, dass keine individuellen Schwachstellen außer Acht gelassen werden.
Du wirst dich nach jeder Einheit sowohl etwas stärker als auch entspannter fühlen. Nach mehrmaligem besuchen dieser Stunden wirst du eine nachhaltige Verbesserung deiner Haltung feststellen können. Schlussendlich soll dir das Pilates Training dabei helfen für die körperlichen Herausforderungen des Alltags besser ausgerüstet zu sein.
Im diesem Pilates Kurs sind alle Personen willkommen: sowohl die, die einfach fit werden oder bleiben wollen als auch die, die sich inspirieren lassen und ihre Skills verfeinern wollen.
Online stream
There is an online stream available for this activity. To participate, take the following steps:
Make sure to read the description of your booked activity in advance to know which streaming provider your studio. Download the necessary app to your laptop, tablet or smartphone
Access to the online livestream is available 15 minutes before the start of the activity. Simply go to "My bookings" and click on "Join online stream now" to be redirected to the corresponding page
With some streaming providers (e.g. Zoom) it is possible for participants to see each other. However, it is theoretically possible to deactivate the camera function. The name you enter when entering the online meeting room is displayed to other participants. However, you can always change your name (e.g. only the initials). Please note: Individual rules for online participation may apply for each class or venue.
Trainer :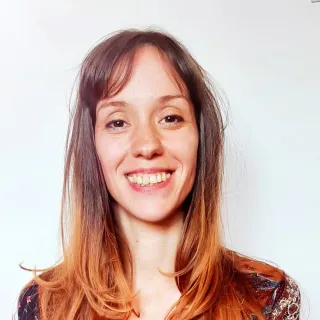 Alma
Dates:
| | | | | |
| --- | --- | --- | --- | --- |
| 1. | 16/09/2022 | 15:00 - 16:00 | Donaufelder Straße 203/DG, 1220 Wien | Alma |
| 2. | 23/09/2022 | 15:00 - 16:00 | Donaufelder Straße 203/DG, 1220 Wien | Alma |
| 3. | 30/09/2022 | 15:00 - 16:00 | Donaufelder Straße 203/DG, 1220 Wien | Alma |
| 4. | 07/10/2022 | 15:00 - 16:00 | Donaufelder Straße 203/DG, 1220 Wien | Alma |
| 5. | 14/10/2022 | 15:00 - 16:00 | Donaufelder Straße 203/DG, 1220 Wien | Alma |
| 6. | 21/10/2022 | 15:00 - 16:00 | Donaufelder Straße 203/DG, 1220 Wien | Alma |
| 7. | 28/10/2022 | 15:00 - 16:00 | Donaufelder Straße 203/DG, 1220 Wien | Alma |
| 8. | 04/11/2022 | 15:00 - 16:00 | Donaufelder Straße 203/DG, 1220 Wien | Alma |
* All prices including VAT