Senioren Yoga 60+ Kurs 05.10.-21.12 (11 Wochen) ONLINE LIVE
Online stream
Starts on Wednesday, 12/10/2022
Price 165.00 €
Description:
Yoga kennt kein Alter. In diesen etwas sanfter gestalteten Yogaeinheiten, werden wir uns dehnen, kräftigen, entspannen und dem Atem lauschen. Alles was zum Yoga dazu gehört. Wir werden in verschiedene Stile eintauchen und dabei den Fokus auf die einfache Beweglichkeit des Körpers legen. Durch kleine Veränderungen, Tipps und Tricks wird jeder seinen persönlichen Weg finden, Positionen (Asanas) zu halten und diese auch gut zu wechseln.
Yoga in der goldenen Lebensphase fördert Kraft und Koordination, verbessert die Beweglichkeit der Gelenke und wirkt gegen Verspannungen. Es wird nicht nur den Blut- und Lymphkreislauf angeregt, sondern auch der Energiefluss stimuliert, was zu mehr Vitalität und Lebensfreude beiträgt. Für diesen Kurs sind keine Vorkenntnisse notwendig, es sollte jedoch ein müheloses Sitzen auf dem Boden oder auf einer Sitzerhöhung möglich sein.
Online stream
There is an online stream available for this activity. To participate, take the following steps:
Make sure to read the description of your booked activity in advance to know which streaming provider your studio. Download the necessary app to your laptop, tablet or smartphone
Access to the online livestream is available 15 minutes before the start of the activity. Simply go to "My bookings" and click on "Join online stream now" to be redirected to the corresponding page
With some streaming providers (e.g. Zoom) it is possible for participants to see each other. However, it is theoretically possible to deactivate the camera function. The name you enter when entering the online meeting room is displayed to other participants. However, you can always change your name (e.g. only the initials). Please note: Individual rules for online participation may apply for each class or venue.
Trainer :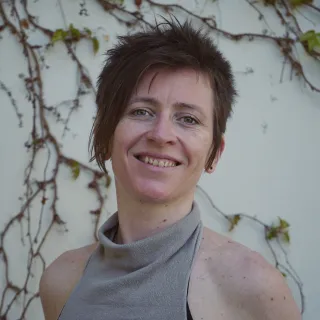 Monika
Dates:
| | | | | |
| --- | --- | --- | --- | --- |
| 1. | 12/10/2022 | 10:00 - 11:15 | Donaufelder Straße 203/DG, 1220 Wien | Monika |
| 2. | 19/10/2022 | 10:00 - 11:15 | Donaufelder Straße 203/DG, 1220 Wien | Monika |
| 3. | 02/11/2022 | 10:00 - 11:15 | Donaufelder Straße 203/DG, 1220 Wien | Monika |
| 4. | 09/11/2022 | 10:00 - 11:15 | Donaufelder Straße 203/DG, 1220 Wien | Monika |
| 5. | 16/11/2022 | 10:00 - 11:15 | Donaufelder Straße 203/DG, 1220 Wien | Monika |
| 6. | 23/11/2022 | 10:00 - 11:15 | Donaufelder Straße 203/DG, 1220 Wien | Monika |
| 7. | 30/11/2022 | 10:00 - 11:15 | Donaufelder Straße 203/DG, 1220 Wien | Monika |
| 8. | 07/12/2022 | 10:00 - 11:15 | Donaufelder Straße 203/DG, 1220 Wien | Monika |
| 9. | 14/12/2022 | 10:00 - 11:15 | Donaufelder Straße 203/DG, 1220 Wien | Monika |
| 10. | 21/12/2022 | 10:00 - 11:15 | Donaufelder Straße 203/DG, 1220 Wien | Monika |
* All prices including VAT