Adventkalender 2023 - best of edition
Online stream
Starts on Friday, 01/12/2023
Price 29.90 €
Description:
Von 1. bis 24. Dezember findest du hier täglich ein neues Video (best of aus den letzten 3 Jahren) mit einem ´yogischen´ Input für deinen Tag. Abwechslungsreich, kreativ und inspirierend sind die 5-10 Minuten langen Videos gestaltet vom You Yoga Studio Team.
Dich erwarten Yoga Übungen, kurze Yoga Flows, Yoga Philosophie, Mediationen, Entspannung, Atemtechniken oder eine Achtsamkeitspraxis, die dir Unterstützung schenken sollen um in der hektischen Vorweihnachtszeit in deiner Balance zu bleiben.
10€ pro Kalender gehen als Spende an das Tierheim Linz.
Online stream
There is an online stream available for this activity. To participate, take the following steps:
This studio uses Zoom as their online streaming provider. Download the according app to your laptop, tablet or smartphone
Access to the online livestream is available 15 minutes before the start of the activity. Simply go to "My bookings" and click on "Join online stream now" to be redirected to the corresponding page
With some streaming providers (e.g. Zoom) it is possible for participants to see each other. However, it is theoretically possible to deactivate the camera function. The name you enter when entering the online meeting room is displayed to other participants. However, you can always change your name (e.g. only the initials). Please note: Individual rules for online participation may apply for each class or venue.
Teacher :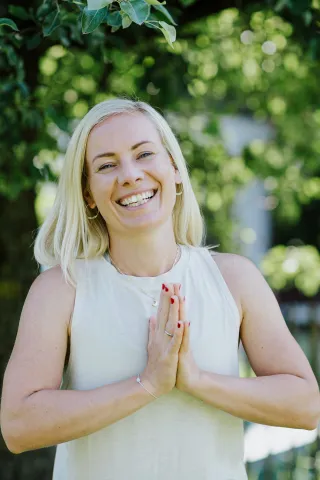 Lisa
Lisa ist die Gründerin und Leiterin des You Yoga Studios. Sie leitet und unterrichtet auch die 200h Yogalehrer-Ausbildung im Studio und gründete die You Yoga Akademie als Ort für Yoga Weiterbildungen. Was bedeutet Yoga für dich? Yoga ist das nach Hause kommen zu mir selbst. Was erwartet die TeilnehmerInnen in deinen Yogastunden? Mein Yogastil ist eine Mischung aus Hatha Yoga, Anusara Yoga und therapeutischem Yoga. Meine Yoga Klassen sind daher bunt, dynamisch, ganzheitlich und ausrichtungsorientiert. Eine Mischung aus sanften mobilisierenden Bewegung wie auch kraftvollen und fordernden Übungen. Zusätzlich fließen in meine Yogaklassen Themen ein, die mich in meinem Leben begeistern: persönliche Weiterentwicklung, Spiritualität und Ayurveda. Eine Yogaklasse ist für mich dann rund, wenn Kraft und Leichtigkeit, Anspannung und Entspannung, genauso wie geistige Ausrichtung und körperliche Ausrichtung in Balance kommen.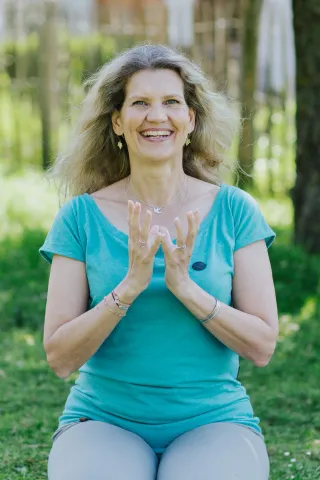 Isolde
Isolde, was bedeutet Yoga für dich? Ausgleich, Ruhe, zu mir kommen, aber auch: mit tollen Menschen zusammen zu kommen. Was erwartet die TeilnehmerInnen in deinen Yogastunden? Eine freundliche, positive Atmosphäre, wo jeder willkommen ist. Schönes, harmonisches Fließen in die Yoga-Asanas, oft mit Musik, und es darf auch mal gelacht werden.
Dates:
| | | | | |
| --- | --- | --- | --- | --- |
| 1. | 01/12/2023 | 05:00 - 23:59 | Weinbergweg 3a, 4060 Leonding | Lisa |
| 2. | 02/12/2023 | 05:00 - 23:59 | Weinbergweg 3a, 4060 Leonding | not specified |
| 3. | 03/12/2023 | 05:00 - 23:59 | Weinbergweg 3a, 4060 Leonding | not specified |
| 4. | 04/12/2023 | 05:00 - 23:59 | Weinbergweg 3a, 4060 Leonding | not specified |
| 5. | 05/12/2023 | 05:00 - 23:59 | Weinbergweg 3a, 4060 Leonding | not specified |
| 6. | 06/12/2023 | 05:00 - 23:59 | Weinbergweg 3a, 4060 Leonding | not specified |
| 7. | 07/12/2023 | 05:00 - 23:59 | Weinbergweg 3a, 4060 Leonding | not specified |
| 8. | 08/12/2023 | 05:00 - 23:59 | Weinbergweg 3a, 4060 Leonding | not specified |
| 9. | 09/12/2023 | 05:00 - 23:59 | Weinbergweg 3a, 4060 Leonding | not specified |
| 10. | 10/12/2023 | 05:00 - 23:59 | Weinbergweg 3a, 4060 Leonding | Lisa |
* All prices including VAT