MINDFUL BODY EVENT *Awaken Your True Self*
Starts on Sunday, 18/12/2022
Price 50.00 €
Description:
Join Marietta & Verena for this special Mindful Body Event.
In this extended Mindful Body Class we will reconnect with ourselves and awaken our true self. We will allow ourselves to truly feel, listen and explore. Let's move, dance, awaken and deeply relax. The power that results when mind, body and spirit are working together as one unit has infinite potential. Let's find stillness and grow together in this exceptional time. Everybody is welcome.
Date: 18.12.2022
Time: 13:30-16:00
Teacher: Marietta & Verena
Location: BODY CONCEPT STUDIO
Price € 50,-
Teacher :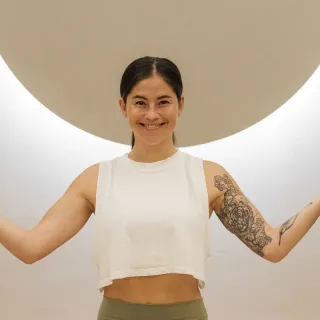 Verena
Movement & a healthy lifestyle was always a big part of my life. While I studied and worked as a fashion & interior designer, the feeling that something is missing never let me go. So I found my way back into health & wellbeing. As a certified Health Coach, Mindful Body Trainer and yoga teacher, it is my mission, to help you feel empowered to reach your wellness goals and feel great in your body.
Dates:
| | | | | |
| --- | --- | --- | --- | --- |
| 1. | 18/12/2022 | 13:30 - 16:00 | Parisergasse 6, 1010 Wien | Verena |
* All prices including VAT