MINDFUL BODY - DEEP DIVE PRACTICE
Starts on Sunday, 26/02/2023
Price 44.00 €
Description:
MINDFUL BODY - DEEP DIVE PRACTICE
Together we will dive deeper into the practice of MINDFUL BODY.
We will find out what remains, when we let go of
…constantly comparing with others.
…exaggerate expectations of ourself.
…the idea of imperfection.
And allow ourselves to simply be. To explore. To feel.
Nothing to achieve.
Nothing to proof.
Nothing to control.
During this extended class we aim to break free from judgement and give ourselves the space to explore.
How does it feel to be you?
MINDFUL BODY - DEEP DIVE PRACTICE / Sequence-
Opening Circle - arriving in a safe space
MINDFUL BODY Introduction/Movement Explanation - we will explore the depth of each move
MINDFUL BODY Class - during this extended practice you will find a lot of space to perceive our wholeness.
Closing Circle - integrate your sense of self
Sunday 26.02.2023 13:00-16:00
Body Concept Parisergasse
Taught by Marietta & Mona
Teacher :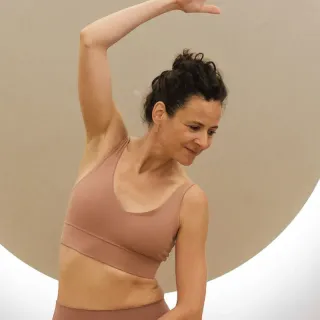 Marietta
I´ve always loved to move my body as it helps me to get out of my head and reconnect with my intuition.Either going for a run, doing workout or just dancing helps me feel centered again. Through Yoga and meditation, I found a depth that I was searching for in my life, feeling at home the first time I stepped on my mat. MINDFUL BODY was the missing link to bring it all together - my body, mind and heart.
Dates:
| | | | | |
| --- | --- | --- | --- | --- |
| 1. | 26/02/2023 | 13:00 - 16:00 | Parisergasse 6, 1010 Wien | Marietta |
* All prices including VAT