Yin Yoga & Mindfulness (online) - Element FEUER
Online stream
Starts on Thursday, 02/06/2022
Price 54.00 €
Description:
Start: Do, 02.06.2022 18:45-20:00
Termine: Do, 02.06., 09.06., 23.06.2022
Kursblock online: € 54,00 inkl. 20% USt (3 Einheiten à 75 min)
Level: alle
Kursbeschreibung:
Yin Yoga ist ein ruhiger Yoga-Stil für Anfänger und Fortgeschrittene. Der Schwerpunkt liegt auf der sanften Dehnung deines Bindegewebes, der Verbesserung deiner Beweglichkeit und darauf, zu einer tiefen inneren Ruhe zu finden – eine Ruhe, aus der neue Kraft entstehen kann.
Ganz im Einklang mit der Natur ist dieser Kurs inspiriert vom Sommer – jener Jahreszeit, die in der TCM mit dem Element Feuer und seinen Meridianen Herz und Dünndarm verbunden ist. Dieses Element steht für Lebensfreude, Leidenschaft, Energie und Erkenntnis. Im Sommer richtet die Natur ihr Energie voll und ganz nach außen. Die Samen die im Frühling sanft gesäht wurden, erstrahlen nun in ihrer vollen Blüte. Der Sommer erinnert uns daran, unsere Herzensenergie voll und ganz im Hier und Jetzt zu leben. In diesem Sinne unterstützen dich unsere Yin-Asanas nicht nur dein Bindegewebe sanft zu dehnen, sondern auch deine Energie in Balance zu halten und nach außen zu leben.
In jeder Einheit kombinieren wir Methoden aus der Meditation und der Traditionellen Chinesischen Medizin (TCM) mit Yin Yoga.
Achtung!
Die Teilnahme an den Kursstunden erfolgt auf eigene Gefahr!
Online stream
There is an online stream available for this activity. To participate, take the following steps:
This studio uses Zoom as their online streaming provider. Download the according app to your laptop, tablet or smartphone
Access to the online livestream is available 15 minutes before the start of the activity. Simply go to "My bookings" and click on "Join online stream now" to be redirected to the corresponding page
With some streaming providers (e.g. Zoom) it is possible for participants to see each other. However, it is theoretically possible to deactivate the camera function. The name you enter when entering the online meeting room is displayed to other participants. However, you can always change your name (e.g. only the initials). Please note: Individual rules for online participation may apply for each class or venue.
Teacher :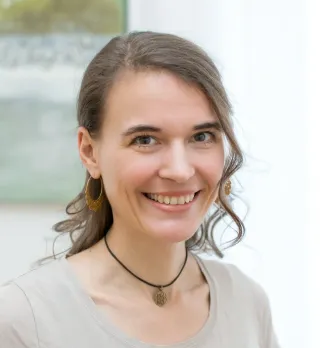 Dani
Dani ist Yogalehrerin, Physiotherapeutin und Osteopathin. Ihre eigene Yogareise hat sie durch die unterschiedlichsten Stile von Hatha-, Ashtanga und Vinyasa Yoga bis zu Yin Yoga geführt. In ihren Kursstunden lässt sie sich daher gerne von verschiedenen Stilen inspirieren. Für Daniela selbst bedeutet Yoga vor allem, sich selbst einen sicheren Raum auf der Yogamatte zu erlauben, vom Kopf mehr in den eigenen Körper zu tauchen und so den Geschichten des eigenen Körpers zuzuhören.
Dates:
| | | | | |
| --- | --- | --- | --- | --- |
| 1. | 02/06/2022 | 18:45 - 20:00 | Onlinekurs -, - Zoom | Dani |
| 2. | 09/06/2022 | 18:45 - 20:00 | Onlinekurs -, - Zoom | Dani |
| 3. | 23/06/2022 | 18:45 - 20:00 | Onlinekurs -, - Zoom | Dani |
* All prices including VAT