YOGA Week Fürstenfeld
Starts on Monday, 29/07/2019
Price from 30.00 €
Description:
Y O G A - ALIGNMENT. STRENGTH. THERAPEUTIC. SPIRIT.
Experience a strong slow vinyasa flow based on alignment. Take time to deepen the practice in a workshop style. Connect deeply to your breathing. Sthira and Sukham – Steadiness and Ease. Balancing on the edge of your physical limit in a controlled way is where transformation starts. Feel the powerful combination of mental training techniques and yoga flows. Step out of your comfort zone to step back into your zone in a more resourceful way.
Learn how to breath back into your life balance. Yoga is a spiritual practice and will help you to reconnect with your needs. Feel that your body is the most powerful healer – physically and emotionally. Align your body, align your thoughts, make clear decisions. Power up your life by slowing down for a moment. Understand pain as a wake up call. Learn how to balance out repetitive movements and static load or simply deepen your yoga practice to the next level.
Teacher :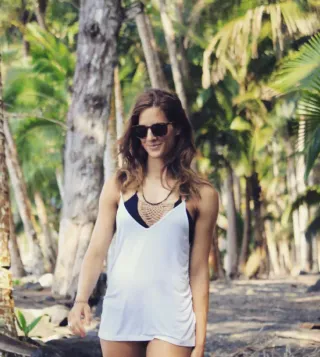 Julia
My background and style of teaching: Hatha Yoga, Vinyasa Flow, Meditation. Alignment. Strength. Therapeutic. Spirit. As a pro athlete, I was looking for something to complete this last one percent. The one percent which will make the difference between Olympic Gold and Silver. I had no idea, that yoga would influence and transform my life in so many positive ways. Over the last 15 years as a pro athlete, I consistently pushed my mind and body in training and in competition mentally and physically. Yoga was my counterpart. It introduced me to the feeling of slowing down into a healing practice. A healing practice for the body. For the mind. And for the soul. Being present, transforming emotions like grief, frustration, anger, fear into strength, potential, happiness, love is what healing is all about. What YOGA is all about. BE the light you want to see in the world. Cant wait to meet you. To play and explore. A L O H A <3
Dates:
| | | | | |
| --- | --- | --- | --- | --- |
| 1. | 29/07/2019 | 18:00 - 20:00 | Stadtbergen 8, 8280 Fürstenfeld | Julia |
| 2. | 30/07/2019 | 18:00 - 20:00 | Stadtbergen 8, 8280 Fürstenfeld | Julia |
| 3. | 31/07/2019 | 18:00 - 20:00 | Stadtbergen 8, 8280 Fürstenfeld | Julia |
| 4. | 01/08/2019 | 18:00 - 20:00 | Stadtbergen 8, 8280 Fürstenfeld | Julia |
| 5. | 02/08/2019 | 18:00 - 20:00 | Stadtbergen 8, 8280 Fürstenfeld | Julia |
* All prices including VAT