ONLINE Neumond Yoga & Ritual
Online stream
Starts on Saturday, 04/12/2021
Price 28.00 €
Description:
Der Neumond ist eine gute Zeit, um nach innen zu schauen, Intention zu setzen und diese zu visualisieren. Schaffe mit einer sanften Yoga-Praxis und einer Neumond-Meditation Raum für deine Herzenswünsche.
FASZINIERT DICH DER MOND AUCH SO?
Der Neumond läutet den neuen Mondzyklus ein. Er steht für den Neubeginn, den Neuanfang. Du lässt die Vergangenheit, den letzten Zyklus, hinter dir und fokussierst dich auf die Zukunft. Der Neumond ist wunderbar dazu geeignet, Wünsche zu manifestieren, Ideen zu sammeln und neue Pläne zu schmieden.
Wenn wir nach den Mondphasen ausrichten, um Neues zu erschaffen, werden wir von einer besonderen Energie getragen. Die Mondphasen können die Manifestation unserer Wünsche und Ziele (Neumond) sowie das Loslassen alter Muster und das Auflösen alter Energien (Vollmond) unterstützen.
HERZENSWÜNSCHEN RAUM GEBEN
Wir starten mit einer sanften Yoga-Praxis im Zeichen des Neumonds, um ganz in unserem Körper anzukommen. Zu Neumond sind die Energien am geringsten, deshalb wollen wir in unseren Körper hinein hören, ihn wahrnehmen und spüren. Anschließend praktizieren wir gemeinsam unser Neumond Ritual. Wir werden gemeinsam unseren Wünschen Raum geben, diese niederschreiben und festigen. Deine Wünsche kannst du aufbewahren und dir immer wieder vor Augen führen.
Danach gibt es eine Neumond-Meditation, um uns tief mit uns selbst zu verbinden, damit unsere Wünsche auch ankommen können.
Je nach Fokus kann das Neumond-Ritual zusätzlich Räucherungen, Atemtechniken und Mantras beinhalten.
Das ist eine Online Klasse aus der herzfeld LIVE LOUNGE.
KANN ICH DIE LIVE KLASSE AUCH ZU EINEM SPÄTEREN ZEITPUNKT ANSCHAUEN?
Du bekommst nach der Einheit den Link zur Aufzeichnung zugeschickt. Die Aufzeichnung ist dann 48h für dich verfügbar.
Online stream
There is an online stream available for this activity. To participate, take the following steps:
This studio uses Zoom as their online streaming provider. Download the according app to your laptop, tablet or smartphone
Access to the online livestream is available 15 minutes before the start of the activity. Simply go to "My bookings" and click on "Join online stream now" to be redirected to the corresponding page
With some streaming providers (e.g. Zoom) it is possible for participants to see each other. However, it is theoretically possible to deactivate the camera function. The name you enter when entering the online meeting room is displayed to other participants. However, you can always change your name (e.g. only the initials). Please note: Individual rules for online participation may apply for each class or venue.
Teacher :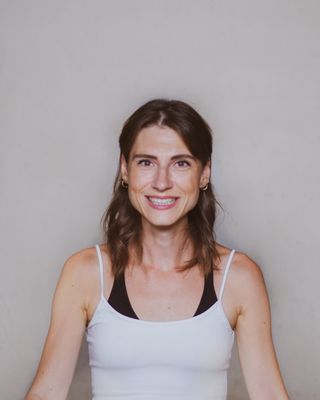 Katharina
In den Yoga-Einheiten von Katharina bekommst du die Möglichkeit, in deine ganz eigene Welt einzutauchen. Der Mix aus aktiven Vinyasa-Flows und passiven Tiefenentspannungen bringen dich näher zu dir selbst und zeigen dir, was alles möglich ist. Auch Atemübungen - Pranayama - sind ein wichtiger Teil von Katharina's Praxis, denn jedes Ausatmen ist auch ein kleines Loslassen. Der Fokus in ihren Einheiten liegt nicht nur auf der körperlichen Ausführung der Übungen, sondern aus dem Zusammenspiel von Körper, Geist & Seele.
Dates:
| | | | | |
| --- | --- | --- | --- | --- |
| 1. | 04/12/2021 | 18:00 - 19:30 | Körösistraße 9, 8010 Graz | Katharina |
Cancellations
Eine Buchung kann bis 7 Tage vor Beginn der Einheit storniert werden. Bei späteren Absagen oder bleibt der/die Teilnehmer*in dem Kurs ohne zeitgerechte Abmeldung einfach fern, wird die gesamte Teilnahmegebühr verrechnet. Ein Ersatzteilnehmer kann zu jedem Zeitpunkt gestellt werden, dies ersetzt die Stornogebühr.
* All prices including VAT