Bryan Kest: Power Yoga Masterclass
Starts on Friday, 30/06/2023
Price 109.00 €
Description:
Bryan Kest is back in Austria in June 2023.
The founder of the original Power Yoga joins us for a Power Yoga Master Class. Be part of this unique experience and enjoy his energetic, distinctive, and user-friendly yoga-style live in Graz.
Celebrities around the world, such as Drew Barrymore and Jennifer Aniston, love Bryan's challenging and enjoyable classes. The man with the "magic voice" has already been to our studio several times and we can't wait to have him back again.
Studio herzfeld is his only tour stop in Austria in 2023! So, grab this unique opportunity and save yourself one of the limited spots.
LEAVE WITH A BIG SMILE
Bryan leads through his famous Master Class in a very fun way. He makes you laugh, he makes you think and he makes you sweat.
Look forward to a well-rounded flowing asana sequences that focuses on practice, not on the result. You will benefit from this class in more than one way and you will definitely leave with a big smile on your face.
Teacher :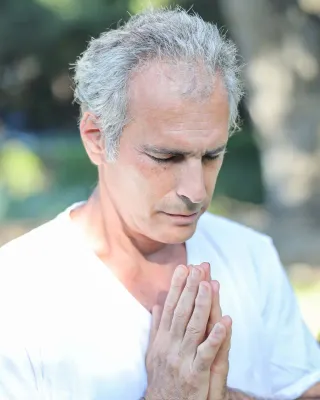 Bryan Kest
Bryan Kest has been practicing yoga since 1979 and has been teaching since 1985. He developed his unique, distinctive style of yoga, called Power Yoga, in 1979. Over the years, this style, an amazing workout for the body, mind and spirit, has made him a well-known, popular teacher across the country and around the world. His mainstream popularity is matched by an authentic foundation in the ancient practice of yoga and a long path of development as a yogi (a practitioner of yoga). At age 15, Bryan uprooted from his native Detroit home to make a life change in Hawaii. He moved to live with his father, a doctor, who understood the benefits of yoga. Like many of us, Bryan originally thought yoga was nothing more than strange contortions, but that changed when his father introduced him to a physical style of yoga called Ashtanga. This appealed to him immediately, and he soon observed great changes in himself, both physically and mentally. Yoga quickly became his passion, one that would take him to India for a year to study with one of the greatest yoga masters of the world, Pattabhi Jois. He has been continuing on his yoga path ever since.
Dates:
| | | | | |
| --- | --- | --- | --- | --- |
| 1. | 30/06/2023 | 18:30 - 21:30 | Körösistraße 9, 8010 Graz | Bryan Kest |
Cancellations
When cancelling your registration up to 30 days prior to the event, 50% of the registration fee will be charged. When cancelling your registration later than that or if you do not show up, the whole registration fee will be charged. An alternate participant can be named at any given time. When an alternate participant is named, no cancellation fees will be charged.
* All prices including VAT