Yin Masterclass - Your issues are in your tissues!
Starts on Wednesday, 09/18/2019
Price 50.00 €
Description:
Get out of your own way! Join me for a 90 minute Yin yoga experience. With the combination of gently stretching your connective tissues and utilizing postures that place pressure on the meridians, a natural release of the hips, pelvis and spine will occur. This ancient approach to transporting raw, life-giving energy throughout the body will leave you reveling! Balance your tenaciousness with sweet surrender in this deeply restorative practice. All levels welcome.
Teacher :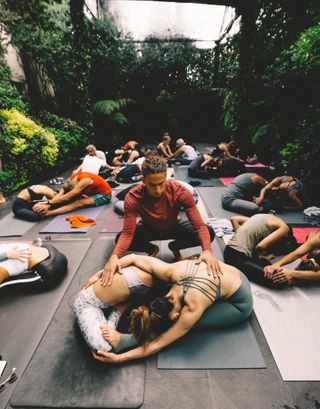 Jonah Kest
NATURE LOVER . KNOWLEDGE SEEKER . SPIRITUAL GANGSTER . YOGI . Jonah Kest has been a student of yoga since day one. Surrounded by his mother, father, and uncle, who were mid-western vinyasa trailblazers, he spent his early years observing and learning from the best. His love and passion for the mind-body connection grew and at age 17, Jonah became a yoga teacher under the tutelage of his father, Jonny Kest. Over the years, his upbringing has translated into a committed asana practice, daily meditation, and consistent cultivation of gratitude. His grace, compassion, and inspiring intensity are evident in everything he does – both off and on the mat.
Dates:
| | | | | |
| --- | --- | --- | --- | --- |
| 1. | 09/18/2019 | 19:00 - 21:00 | Schönbrunner Straße 31, 1050 Wien | Jonah Kest |
* All prices including VAT