Schwangerschafts-Yoga (auch Online)
Online stream
Starts on Sunday, 23/01/2022
Price from 35.00 €
Description:
Schwangerschafts-Yoga Workshop: Yoga und Meditation als sanfte Begleiter in der Schwangerschaft
In dieser Workshop Reihe erfährst du, wie du mit Yoga und Meditation deine Schwangerschaft positiv unterstützen kannst. Du lernst die besondere Wirkung von Yoga und Meditation in dieser sehr speziellen Zeit deines Lebens kennen.
Yoga in der Schwangerschaft ist meist sanft, beinhaltet aber auch kräftigende Elemente. Ich passe die Einheiten individuell an deine Bedürfnisse und die der anderen werdenden Mütter an. In meinen Schwangerenyogastunden, lege ich großen Wert auf die Verbindung zwischen dir und deinem Baby, als auch den Müttern untereinander.
Achtsamkeitsübungen und Meditation stärken die Verbindung und das Vertrauen in die eigene Intuition und zu deinem Baby. So spürst du mehr und mehr wie du dich als werdende Mutter und dein Kind im Mutterleib unterstützen kannst.
Du wirst auch deine Kenntnisse zum Thema Beckenboden vertiefen, indem du lernst deine Aufmerksamkeit auf ihn zu richten und ihn sanft zu aktivieren. Eine gute Wahrnehmung und Funktionsfähigkeit des Beckenbodens ist für den Geburtsverlauf ebenso von Bedeutung wie auch für die Zeit nach der Geburt, damit dieser möglichst gesund und funktionstüchtig bleibt.
Du lernst verschiedene Atemtechniken: Diese dienen einer verbesserten Sauerstoffversorgung deines Babys im Mutterleib, und schenken euch Erleichterung während der Geburt.
Zur Teilnahme an dieser Workshop Reihe oder einzelnen Workshops sind keine besonderen Vorkenntnisse nötig, allerdings sollte von ärztlicher Seite nichts dagegensprechen. Optimal wäre eine Teilnahme ab dem 2. Schwangerschaftstrimester, wenn die Schwangerschaft schon gefestigt ist.
Der Workshop kann auch Online mitgemacht werden.
Ich freue mich auf euch. Eure Jelka
Online stream
There is an online stream available for this activity. To participate, take the following steps:
Make sure to read the description of your booked activity in advance to know which streaming provider your studio. Download the necessary app to your laptop, tablet or smartphone
Access to the online livestream is available 15 minutes before the start of the activity. Simply go to "My bookings" and click on "Join online stream now" to be redirected to the corresponding page
With some streaming providers (e.g. Zoom) it is possible for participants to see each other. However, it is theoretically possible to deactivate the camera function. The name you enter when entering the online meeting room is displayed to other participants. However, you can always change your name (e.g. only the initials). Please note: Individual rules for online participation may apply for each class or venue.
Trainer :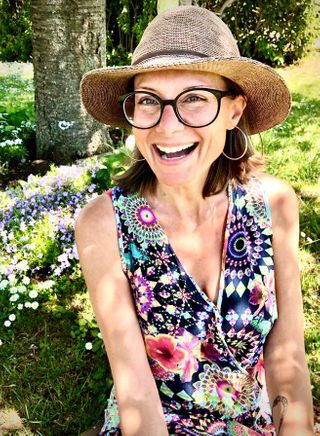 Jelka
Dates:
| | | | | |
| --- | --- | --- | --- | --- |
| 1. | 23/01/2022 | 09:00 - 11:00 | Triester Straße 14, 2351 Wiener Neudorf | Jelka |
| 2. | 06/02/2022 | 09:00 - 11:00 | Triester Straße 14, 2351 Wiener Neudorf | Jelka |
| 3. | 06/03/2022 | 09:00 - 11:00 | Triester Straße 14, 2351 Wiener Neudorf | Jelka |
| 4. | 20/03/2022 | 16:00 - 18:00 | Triester Straße 14, 2351 Wiener Neudorf | Jelka |
| 5. | 27/03/2022 | 09:00 - 11:00 | Triester Straße 14, 2351 Wiener Neudorf | Jelka |
| 6. | 03/04/2022 | 09:00 - 11:00 | Triester Straße 14, 2351 Wiener Neudorf | Jelka |
| 7. | 24/04/2022 | 09:00 - 11:00 | Triester Straße 14, 2351 Wiener Neudorf | Jelka |
* All prices including VAT