AcroYoga Kurs - Intermediate Level 1 - ab 15.1.2020
Starts on Wednesday, 15/01/2020
Price 150.00 €
Description:
Level Up! In diesem Kurs für fortgeschrittene Anfänger befassen wir uns tiefergehend mit den verschiedenen AcroYoga Basics und verbinden statische Positionen in einen Flow. Vorraussetzungen: Du hast bereits einen 10-wöchigen Anfängerkurs (10 x 90 min) besucht oder ein vergleichbares Level.
KURS: AcroYoga Intermediate - Level 1
WANN: 10 x Mittwoch ab 15. Jänner von 17:30 - 19:00 h
WO: Turnsaal der Schule Schellinggasse 13, 1010 Wien
LEVEL: Anfänger mit Vorkenntnisse aus einem 10 Wochen Kurs.
Alle Termine: Jan: 15. + 22. + 29. Feb: 12. + 19. + 26. Mar: 4. + 11. + 18. + 25
AcroYoga verbindet die Weisheit von Yoga, die dynamische Kraft von Akrobatik und die liebevolle Heilungskraft von Thai Massage. Diese drei Elemente bilden einer Praxis die auf Vertrauen, Verspieltheit und Gemeinschaft basiert. Wir lernen Schritt für Schritte alle Rollen des AcroYogas kennen: Base (am Boden), Flyer (in der Luft) und Spotter (zur Sicherung).
Trainer :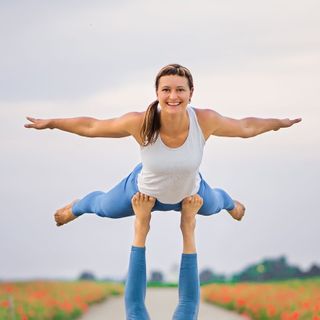 Lisa Looping
Lisa's life is circelling around 3 passions: AcroYoga, Aerial Yoga and Hula Hoops. She is based in Vienna since the year 2000 and that's also when and where she started her yoga journey. Lisa loves to travel across the globe to share her love for yoga and hula hooping with the world. Yoga has been part of her life for more than 15 years. She is a certified Hatha Flow Yoga (200 h), Aerial Yoga and AcroYoga teacher. She is teaching weekly classes and monthly workshops at Yogafusion SruVienna. 2005 - 2016 she was working for the international performance company PhoenixCreative not only on stage but also coordinating the bookings from the headquarters in Vienna, where she also manages their training space the Vienna Circus Arts Center. 2008 she discovered her love for the hula hoop, since then a big part of her life is circling around this fascinating object of infinite possibilities. She has passionately specialised in fire and multiple hooping with LEDs, UV active or reflecting special effects. 2011 she started her solo project Lisa Looping. Lisa has organisedthe Austrian Hoop Convention 4 times in the years 2014 - 2017. She is co-organising the annual Aerial Arts Festival Austria with Sheila Falk and Daniela Staudinger since 2017.
Dates:
| | | | | |
| --- | --- | --- | --- | --- |
| 1. | 15/01/2020 | 17:30 - 19:00 | Schellinggasse 13, 1010 Wien | Lisa Looping |
| 2. | 22/01/2020 | 17:30 - 19:00 | Schellinggasse 13, 1010 Wien | Lisa Looping |
| 3. | 29/01/2020 | 17:30 - 19:00 | Schellinggasse 13, 1010 Wien | Lisa Looping |
| 4. | 12/02/2020 | 17:30 - 19:00 | Schellinggasse 13, 1010 Wien | Lisa Looping |
| 5. | 19/02/2020 | 17:30 - 19:00 | Schellinggasse 13, 1010 Wien | Lisa Looping |
| 6. | 26/02/2020 | 17:30 - 19:00 | Schellinggasse 13, 1010 Wien | Lisa Looping |
| 7. | 04/03/2020 | 17:30 - 19:00 | Schellinggasse 13, 1010 Wien | Lisa Looping |
| 8. | 11/03/2020 | 17:30 - 19:00 | Schellinggasse 13, 1010 Wien | Lisa Looping |
| 9. | 18/03/2020 | 17:30 - 19:00 | Schellinggasse 13, 1010 Wien | Lisa Looping |
| 10. | 25/03/2020 | 17:30 - 19:00 | Schellinggasse 13, 1010 Wien | Lisa Looping |
* All prices including VAT