AcroYoga Anfänger Workshop Sonntag 15. März
Starts on Sunday, 15/03/2020
Price 40.00 €
Description:
Warteliste? Schreib an lisalooping@acroyoga.org - es werden immer wieder Plätze frei (auch kurzfrstig)!
Spread your wings! Schritt für Schritt lernen wir gemeinsam zu fliegen und erforschen die wichtigsten Grundelemente der AcroYoga Praxis. AcroYoga verbindet die Weisheit von Yoga, die dynamische Kraft von Akrobatik und die liebevolle Heilungskraft von Thai Massage. Diese drei Elemente bilden einer Praxis die auf Vertrauen, Verspieltheit und Gemeinschaft basiert.
​Komm alleine oder mit Partner! Mitzubringen: Wasserflasche, Neugier und Spielfreude​ Geeignete Kleidung: bBequem aber nicht zu weit, besser eher anliegend, ohne Taschen & ohne Gürtel damit sich die Zehen darin nicht verfangen.
Falls dieser Kurs online ausgebucht ist kannst du dich trotzdem für die Warteliste eintragen: lisalooping@acroyoga.org Es wird oft kurzfristig noch was frei!
Trainer :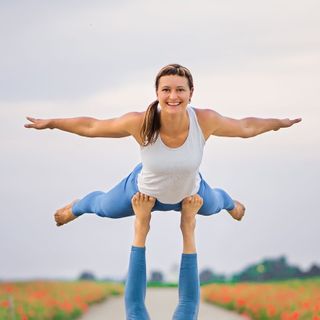 Lisa Looping
Lisa's life is circelling around 3 passions: AcroYoga, Aerial Yoga and Hula Hoops. She is based in Vienna since the year 2000 and that's also when and where she started her yoga journey. Lisa loves to travel across the globe to share her love for yoga and hula hooping with the world. Yoga has been part of her life for more than 15 years. She is a certified Hatha Flow Yoga (200 h), Aerial Yoga and AcroYoga teacher. She is teaching weekly classes and monthly workshops at Yogafusion SruVienna. 2005 - 2016 she was working for the international performance company PhoenixCreative not only on stage but also coordinating the bookings from the headquarters in Vienna, where she also manages their training space the Vienna Circus Arts Center. 2008 she discovered her love for the hula hoop, since then a big part of her life is circling around this fascinating object of infinite possibilities. She has passionately specialised in fire and multiple hooping with LEDs, UV active or reflecting special effects. 2011 she started her solo project Lisa Looping. Lisa has organisedthe Austrian Hoop Convention 4 times in the years 2014 - 2017. She is co-organising the annual Aerial Arts Festival Austria with Sheila Falk and Daniela Staudinger since 2017.
Dates:
| | | | | |
| --- | --- | --- | --- | --- |
| 1. | 15/03/2020 | 14:00 - 17:00 | Tendlergasse 11, 1090 Wien | Lisa Looping |
* All prices including VAT