108 Sonnengrüße und Feelgood-Brunch
Starts on Saturday, 08/10/2022
Price 42.00 €
Description:
Am 08.10., pünktlich zum Herbstbeginn, steigt unser nächster Feelgood-Brunch samt 108 Sonnengrüßen im Feelgoodstudio 1040!
Wir beginnen den Tag mit gemeinsamen 108 Sonnengrüßen (geleitet von Bruno). Nicht nur macht dies Lust auf mehr (und den Brunch), diese Praxis ist traditionell auch besonders reinigend und meditativ. ... und keine Sorge, es ist leichter als Du denkst, wir machen ja nur 108 Sonnengrüße:) we breathe, move, sweat and smile together!!!
108 Sonnengrüße werden traditionell praktiziert um spezielle Daten, etwa Sonnenwende etc., zu betonen. Am 08.10. wäre das z.B.: der Geburtstag von Matt Damen und Bruno Mars:)
Die Praxis dauert ca. 90-100 Minuten und endet mit einem genüsslichen Savasana bevor wir gemeinsam brunchen! Eines der besonderen Dinge an der Praxis von 108 Sonnengrüßen ist, dass recht rasch der Moment immer mehr in den Vordergrund kommt, weil die Frage 'what`s next?' verschwindet, da ja klar ist was kommt, ein weiterer Sonnengruß.
Kulinarisch erwartet dich die perfekte, der aktuellen Jahreszeit angepasste, Stärkung für Deinen Tag! Serviert wird dieses Mal traditionelle chinesische Küche gemäß TCM.
Wir freuen uns auf DICH!
Teacher :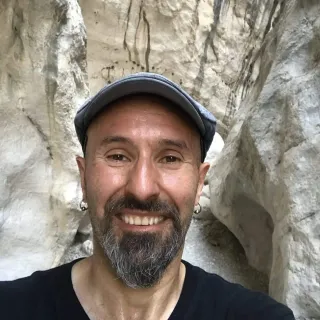 Bruno Teyssandier (EN, FR)
Bruno Teyssandier was an active mountain and mountain bike tour guide before he came in contact with yoga in 1998. After an accident in Nepal, which made him turn around 180 degrees, he decided to participate in a yoga teacher training in LA California in the fall of 1999. Since then, he has studied in India multiple times. He owned, directed and taught at Yoga 108 in Marin county (California) and New Orleans (Louisiana) for 7 years, from San Francisco to Beijing before he landed in Vienna in the summer of 2014. He has managed Feelgood yoga since 2019. His directions are firm but nurturing, he teaches from a warm heart and sense of humor, yet with strong focus.
Dates:
| | | | | |
| --- | --- | --- | --- | --- |
| 1. | 08/10/2022 | 10:00 - 13:00 | Paulanergasse 13, 1040 Wien | Bruno Teyssandier (EN, FR) |
* All prices including VAT