Live Online Grundkurs mit Daniel
Online stream
Starts on Friday, 10/04/2020
Price from 115.00 €
Description:
aus gegebenen Anlass bieten wir derzeit einen Yoga-Anfängerkurs online an. Der Grundkurs besteht aus 8 Einheiten zu je 1 Stunde und wird online via ZOOM Live abgehalten. Der Kurs findet an 2 Terminen pro Woche LIVE via ZOOM statt, wodurch sich erste positive Veränderungen des körperlichen & geistigen Zustandes schnell einstellen. Die Kurseinheiten werden aufgezeichnet und können bequem daheim nachgeübt werden. Außerdem gibt es ein Chat-Forum, um auf Fragen und spezielle Bedürfnisse besser eingehen zu können. Wer einen LIVE Termin versäumt, kann die Einheit mit der Aufzeichnung nachholen
Online stream
There is an online stream available for this activity. To participate, take the following steps:
This studio uses Zoom as their streaming provider to online stream their activities. Download the according software or app to your laptop, tablet or smartphone.
The access to the online stream is available 15 minutes before the start of the activity. You can find the link for the online stream in your online profile under "My bookings / Activities". With a click on "Go to online stream now" you will be forwarded to the corresponding page and you join the activity online!
All participants are able to see the video transmission of other participants. If you do not want to show yourself or the personal environment in which you take part in the online class, you can deactivate the camera function or cover the camera. The name you enter when you join the online meeting room will be shown to other participants. However, you can change your name at any time (e.g. only specify the initials).
Teacher :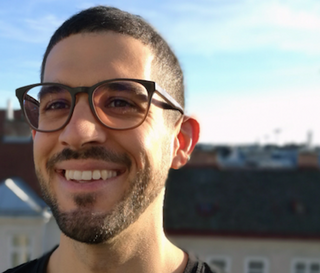 Daniel Ringhofer
Daniels achtsames, präzises und freundliches Wesen schlägt auch in seiner Praxis und seinem Unterricht voll durch. Bevor Daniel sich entschlossen hat fulltime Yoga zu unterrichten arbeitete er als Architekt, diese technische Gabe und Präzision drückt sich auch in seinem Yogaunterricht aus. SchülerInnen schätzen seine detaillierten Angaben sehr.
Dates:
| | | | | |
| --- | --- | --- | --- | --- |
| 1. | 10/04/2020 | 15:30 - 16:30 | Große Mohrengasse 23 (im Hof) -, 1020 Vienna | Daniel Ringhofer |
| 2. | 13/04/2020 | 15:30 - 16:30 | Große Mohrengasse 23 (im Hof) -, 1020 Vienna | Daniel Ringhofer |
| 3. | 17/04/2020 | 15:30 - 16:30 | Große Mohrengasse 23 (im Hof) -, 1020 Vienna | Daniel Ringhofer |
| 4. | 20/04/2020 | 15:30 - 16:30 | Große Mohrengasse 23 (im Hof) -, 1020 Vienna | Daniel Ringhofer |
| 5. | 24/04/2020 | 15:30 - 16:30 | Große Mohrengasse 23 (im Hof) -, 1020 Vienna | Daniel Ringhofer |
| 6. | 27/04/2020 | 15:30 - 16:30 | Große Mohrengasse 23 (im Hof) -, 1020 Vienna | Daniel Ringhofer |
| 7. | 01/05/2020 | 15:30 - 16:30 | Große Mohrengasse 23 (im Hof) -, 1020 Vienna | Daniel Ringhofer |
| 8. | 04/05/2020 | 15:30 - 16:30 | Große Mohrengasse 23 (im Hof) -, 1020 Vienna | Daniel Ringhofer |
* All prices including VAT