Pranayama Einführungswochenende mit Sascha 13. u 14. März 2021
Online stream
Starts on Saturday, 13/03/2021
Price 30.00 €
Description:
Pranayama Einsteigerworkshop mit Sascha Delberg
Ist es nicht erstaunlich wie zuverlässig unsere Atmung uns unser Leben lang begleitet. Meistens ohne Beachtung unter dem Radar unserer Wahrnehmung, damit wir uns auf die wirklich wichtigen Dinge konzentrieren können :) Es lohnt sich auf sie zu hören, denn wir können durch sie sehr viel über uns erfahren.
In diesem Einsteiger Workshop lernst du deinen Atem besser wahrzunehmen und kannst bemerken, wie sich diese Aufmerksamkeit zu einer besseren Beziehung zu deinem Körper beiträgt.
'Ich freue mich, in diesem Workshop meine Erfahrung mit der Atmung mit euch zu teilen.' Sascha Delberg
---
Inhalte des Workshops:
-- wir erkunden den Atem durch diverse Übungen am eigenen Körper
-- bekommen Basiswissen über die Atmung in physiologischer Hinsicht
-- Basiswissen über die Hintergründe von Pranayama aus yogischer Sicht
-- erlernen die wichtigsten Pranayama-Übungen sowie Kriyas (Reinigungstechniken).* -- die Einheiten werden aufgezeichnet und können bequem daheim nachgeübt werden.
Online stream
There is an online stream available for this activity. To participate, take the following steps:
This studio uses Zoom as their streaming provider to online stream their activities. Download the according software or app to your laptop, tablet or smartphone.
The access to the online stream is available 15 minutes before the start of the activity. You can find the link for the online stream in your online profile under "My bookings". With a click on "Join online stream now" you will be forwarded to the corresponding page and you join the activity online!
Specific streaming providers, e.g. Zoom, allow participants to see each other through the video camera. If you do not want to show yourself or the personal environment, you can deactivate the camera function or cover the camera. The name you enter when you join the online meeting room will be shown to other participants. However, you can change your name at any time (e.g. only specify the initials).
Teacher :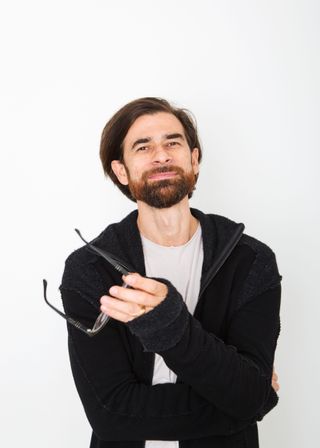 Sascha Delberg
Saschas umfangreiches und langjähriges Studium gepaart mit seiner ruhigen und unaufgeregten Art machen seinen Unterricht zu einer tiefgreifenden Erfahrung. Sein Unterricht ist von einem umfangreichen anatomischen Wissen, therapeutischer Weisheit und profunder Kenntnis der kontemplativen Praktiken geprägt.
Dates:
| | | | | |
| --- | --- | --- | --- | --- |
| 1. | 13/03/2021 | 10:00 - 11:30 | Große Mohrengasse 23/2a (im Hof), 1020 Wien | Sascha Delberg |
| 2. | 14/03/2021 | 10:00 - 11:30 | Große Mohrengasse 23/2a (im Hof), 1020 Wien | Sascha Delberg |
* All prices including VAT