Yogakurs 2.0 für Anfänger/innen und leicht Fortgeschrittene
Online stream
Starts on Monday, 09/03/2020
Price 120.00 €
Description:
Der Yoga Anfängerkurs 2.0 ist für Yoga Anfänger und leicht Fortgeschrittene geeignet. Wir wiederholen die Basics, arbeiten uns langsam voran, lernen neue Positionen, bauen Kraft auf und arbeiten an unserem Vinyasa.
Yoga ist - Entspannung, - Kräftigung des gesamten Körpers, - Stretching, - Gleichgewicht, - Mitte Stärken, - Verbindung von Atmung und Bewegung... und: Yoga macht Spaß!
Das erwartet Dich im Anfängerkurs 2.0: Kleine Gruppe Erfahrene Yogalehrerin 6-teiliger Kurs (jeden Montag) Leicht verständliche Erklärungen für die Grundlagen der wichtigsten Yogahaltungen.
Hier erfährst du mehr über Yoga und lernst, wie du mehr Entspannung und Ausgeglichenheit in deinen Alltag bringen kannst. Wir empfehlen: Besuche gleichzeitig (oder möglichst zeitnah) unsere Basic-Klassen, damit du das Gelernte umsetzen kannst.
Online stream
There is an online stream available for this activity. To participate, take the following steps:
This studio uses Zoom as their streaming provider to online stream their activities. Download the according software or app to your laptop, tablet or smartphone.
The access to the online stream is available 15 minutes before the start of the activity. You can find the link for the online stream in your online profile under "My bookings / Activities". With a click on "Go to online stream now" you will be forwarded to the corresponding page and you join the activity online!
All participants are able to see the video transmission of other participants. If you do not want to show yourself or the personal environment in which you take part in the online class, you can deactivate the camera function or cover the camera. The name you enter when you join the online meeting room will be shown to other participants. However, you can change your name at any time (e.g. only specify the initials).
Teacher :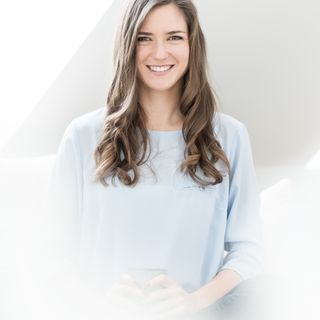 Ines
Bereits vor über 10 Jahren habe ich Yoga für mich entdeckt - und es ließ mich einfach nicht mehr los. Yoga hat mich durch sämtliche Lebenssituationen hindurch begleitet und mir immer wieder dabei geholfen, einen klaren Kopf zu behalten. 2017 habe ich mich dann endlich dazu entschlossen, eine Yogalehrerausbildung zu machen. Einfach um das weitergeben zu können, was mir selbst immer wieder gut getan hat. Vinyasa Flow Yoga ist der Stil, in dem ich mich zuhause fühle. Kombiniert mit Musik kann man in einer Vinyasa Flow Einheit so richtig gut abschalten, durchatmen und wieder ganz bei sich ankommen. In meinen Stunden ist es mir ganz besonders wichtig, dass sich alle wohlfühlen und mit einem richtig guten Gefühl nach Hause gehen. Die größte Belohnung nach einer Stunde sind eure lächelnden Gesichter!
Dates:
| | | | | |
| --- | --- | --- | --- | --- |
| 1. | 09/03/2020 | 17:00 - 18:15 | Riefelgasse 8, 2344 Maria Enzersdorf | Ines |
| 2. | 20/04/2020 | 17:00 - 18:15 | Riefelgasse 8, 2344 Maria Enzersdorf | Ines |
| 3. | 27/04/2020 | 17:00 - 18:15 | Riefelgasse 8, 2344 Maria Enzersdorf | Ines |
| 4. | 04/05/2020 | 17:00 - 18:15 | Riefelgasse 8, 2344 Maria Enzersdorf | Ines |
| 5. | 11/05/2020 | 17:00 - 18:15 | Riefelgasse 8, 2344 Maria Enzersdorf | Ines |
| 6. | 18/05/2020 | 17:00 - 18:15 | Riefelgasse 8, 2344 Maria Enzersdorf | Ines |
* All prices including VAT