InsideFlow LIVE ONLINE mit Yong Ho
Online stream
Starts on Sunday, 08/11/2020
Price 25.00 €
Description:
Um dir die Wartezeit auf den 'Klang des Herzens' am 26. April 2021 zu verkürzen, kreiert Young Ho Kim für uns einen InsideFlow, den wir am 8. November 2020 von 11.00 bis 12.30 Uhr online veranstalten. Komm und macht mit! Wir nutzen Zoom zur Übertragung.
Mit INSIDE FLOW hat der international bekannte Yogalehrer Young-Ho Kim einen Stil entwickelt, welcher eine fließende Abfolge von Asanas im Rhythmus zu moderner Musik verbindet. Daraus entsteht ein kreativer Flow, durch den du von deiner Atmung und den Beats der Musik getragen wirst. "Alles fließt mit der Musik: dein Herz, dein Atem, dein Yoga." Hier fühlen sich erfahrene und fortgeschrittene YogiNis wohl.
Online stream
There is an online stream available for this activity. To participate, take the following steps:
This studio uses Zoom as their streaming provider to online stream their activities. Download the according software or app to your laptop, tablet or smartphone.
The access to the online stream is available 15 minutes before the start of the activity. You can find the link for the online stream in your online profile under "My bookings". With a click on "Join online stream now" you will be forwarded to the corresponding page and you join the activity online!
Specific streaming providers, e.g. Zoom, allow participants to see each other through the video camera. If you do not want to show yourself or the personal environment, you can deactivate the camera function or cover the camera. The name you enter when you join the online meeting room will be shown to other participants. However, you can change your name at any time (e.g. only specify the initials).
Teacher :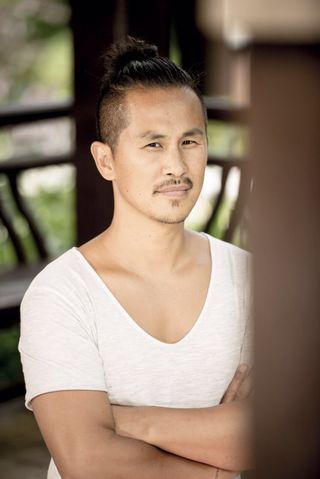 Young Ho
"It's only Yoga" – mit diesen Worten, sowie seinen herausragenden Stunden begeistert Young Ho Kim deutschlandweit und international seine Teilnehmer mit Yoga. Die umfangreiche Yoga-Ausbildung, sowie die jahrelange Erfahrung in fernöstlichen Entspannungsmethoden zeichnen den Ausbilder als absoluten Spezialisten auf diesen Gebieten aus. In seinen Stunden vermittelt Young Ho Kim auf seine besondere Art von Leichtigkeit und Mitgefühl. Die Kommunikation zwischen Körper und Geist – neben körperlichen Herausforderungen und Anstrengungen, Loslassen und Entspannung, kommen die medita tive Ebene und moderne Yogaphilosophie auf seine Weise zum Tragen. Er holt seine Teilnehmer ab, wo sie sich befinden und nimmt sie von dort aus mit auf eine Reise zu sich selbst. Young Ho ist in Südkorea aufgewachsen, die Kampfkunst, Taekwondo und andere asiatische Trainingslehren und Philosophien begleiteten ihn von Kindheit an. Mit großer Leidenschaft und Hingabe unterrichtet Young Ho Kim als Yogalehrer, Ausbilder, Personal Trainer, Referent und Coach weltweit.
Dates:
| | | | | |
| --- | --- | --- | --- | --- |
| 1. | 08/11/2020 | 11:00 - 12:30 | Bei dir Zu Hause 1, 1010 Wien | Young Ho |
* All prices including VAT