Ground to Grow - Anusara Yoga Workshop mit Eva Ananya
Online stream
Starts on Saturday, 28/11/2020
Price from 15.00 €
Description:
Ganesha ist bekannt als der Meister der Neuanfänge und der Weisheit, er beseitigt Hindernisse auf unserem Weg, aber er legt sie uns auch in den Weg. Diese Herausforderungen im Leben sind Tore für unser Wachstum. Stellen wir uns ihnen, werden wir stärker – auf allen Ebenen, körperlich, geistig und emotional. Ganesha hilft uns Hindernisse aufzulösen indem er uns beispielsweise hilft andere Gedanken zu kultivieren, die uns wiederum helfen, diese Hindernisse besser zu verstehen und sie mit diesem Verständnis aufzulösen. Der erste Schritt ist dein Bewusstsein dafür zu öffnen.
Diese Anusara Yoga Praxis unterstützt dich genau dabei. Beginne deinen Inneren Dialog neu zu programmieren. Erkenne, dass die Wurzeln die Nahrung für das Wachstum bereithalten und du dafür zuerst mehr Bewusstsein für diese schaffen darfst. Ein Baum hat Wurzeln, sie richten den Energiefluss nach unten in die Erde, worüber der Baum Nahrung erhält.Sie bieten eine erdende, stabilisierende Kraft. Den nach oben gerichteten Energiefluss stellen die Äste dar mit ihren Blättern, Blüten und Früchten.
Lass dich von Eva durch diese Ganesha Praxis bewegen und meditiere mit kraftvollem Mantra und Mudra um dich zu öffnen für deinen eigenen, einzigartigen Weg.
Dieser Workshop findet LIVE ONLINE über Zoom statt.
Online stream
There is an online stream available for this activity. To participate, take the following steps:
This studio uses Zoom as their online streaming provider. Download the according app to your laptop, tablet or smartphone
Access to the online livestream is available 15 minutes before the start of the activity. Simply go to "My bookings" and click on "Join online stream now" to be redirected to the corresponding page
With some streaming providers (e.g. Zoom) it is possible for participants to see each other. However, it is theoretically possible to deactivate the camera function. The name you enter when entering the online meeting room is displayed to other participants. However, you can always change your name (e.g. only the initials). Please note: Individual rules for online participation may apply for each class or venue.
Trainer :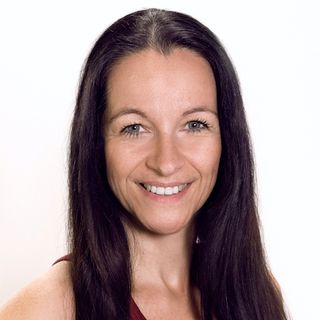 Eva
Eva gründete gemeinsam mit Carsten 2011 das ANANYA und unterrichtet Anusara Yoga. Rückenprobleme brachten sie zum Yoga. Eva probierte verschiedene Yogastile aus wie Bikram Yoga, Sivananda Yoga, Ashtanga Yoga und viele mehr. 2008 entdeckte sie die Liebe zu Anusara Yoga. 2009 startete sie die Anusara Yoga-Ausbildung in Berlin. Eva ist Anusara Certified Advanced Teacher Trainer (CATT), E-RYT500, YACEP, Certified Rolferin, absolvierte Yoga Therapy Ausbildungen und hat eine Shiatsu Ausbildung. Yoga ist für sie eine Lebenseinstellung - sie lebt ihr Yoga und begeistert mit ihrer kraftvoll herzlichen Art in ihren Yoga Einheiten. Eva unterrichtet Yoga Klassen, Workshops, Privates (Personal Training) im Ananya sowie Ausbildungen, Workshops und Retreats weltweit.
Dates:
| | | | | |
| --- | --- | --- | --- | --- |
| 1. | 28/11/2020 | 10:00 - 12:00 | Bei dir Zu Hause 1, 1010 Wien | Eva |
* All prices including VAT