+50h Inside Flow Fortbildung Young Ho Kim
Online stream
Starts on Friday, 24/09/2021
Price 900.00 €
Description:
Die Fortbildung ist für Yogalehrer:innen, die bereits ihre 200 Stunden Grundausbildung absolviert haben und sich gerne fließend mit moderner Musik bewegen und dies an ihre Schüler weiterlehren möchten. Eine Fortbildung im Fluss mit Körper, Atem und Bewegung.
Buchung bitte über unsere Homepage: https://ananya.at/yogalehrerausbildung/insideflow-ausbildung-young-ho-kim/
Online stream
There is an online stream available for this activity. To participate, take the following steps:
This studio uses Zoom as their online streaming provider. Download the according app to your laptop, tablet or smartphone
Access to the online livestream is available 15 minutes before the start of the activity. Simply go to "My bookings" and click on "Join online stream now" to be redirected to the corresponding page
With some streaming providers (e.g. Zoom) it is possible for participants to see each other. However, it is theoretically possible to deactivate the camera function. The name you enter when entering the online meeting room is displayed to other participants. However, you can always change your name (e.g. only the initials). Please note: Individual rules for online participation may apply for each class or venue.
Teacher :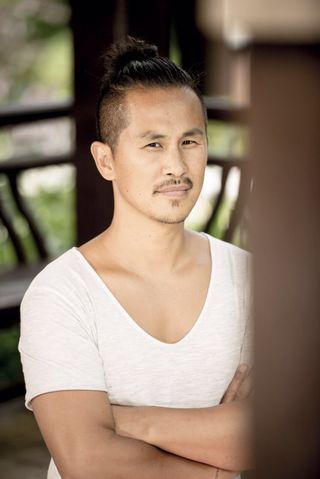 Young Ho
"It's only Yoga" – mit diesen Worten, sowie seinen herausragenden Stunden begeistert Young Ho Kim deutschlandweit und international seine Teilnehmer mit Yoga. Die umfangreiche Yoga-Ausbildung, sowie die jahrelange Erfahrung in fernöstlichen Entspannungsmethoden zeichnen den Ausbilder als absoluten Spezialisten auf diesen Gebieten aus. In seinen Stunden vermittelt Young Ho Kim auf seine besondere Art von Leichtigkeit und Mitgefühl. Die Kommunikation zwischen Körper und Geist – neben körperlichen Herausforderungen und Anstrengungen, Loslassen und Entspannung, kommen die medita tive Ebene und moderne Yogaphilosophie auf seine Weise zum Tragen. Er holt seine Teilnehmer ab, wo sie sich befinden und nimmt sie von dort aus mit auf eine Reise zu sich selbst. Young Ho ist in Südkorea aufgewachsen, die Kampfkunst, Taekwondo und andere asiatische Trainingslehren und Philosophien begleiteten ihn von Kindheit an. Mit großer Leidenschaft und Hingabe unterrichtet Young Ho Kim als Yogalehrer, Ausbilder, Personal Trainer, Referent und Coach weltweit.
Dates:
| | | | | |
| --- | --- | --- | --- | --- |
| 1. | 24/09/2021 | 14:30 - 18:00 | Mollardgasse 34, 1060 Wien | not specified |
| 2. | 25/09/2021 | 10:00 - 17:00 | Mollardgasse 34, 1060 Wien | not specified |
| 3. | 26/09/2021 | 10:00 - 17:00 | Mollardgasse 34, 1060 Wien | not specified |
| 4. | 22/10/2021 | 14:30 - 18:00 | Mollardgasse 34, 1060 Wien | not specified |
| 5. | 23/10/2021 | 10:00 - 17:00 | Mollardgasse 34, 1060 Wien | not specified |
| 6. | 24/10/2021 | 10:00 - 17:00 | Mollardgasse 34, 1060 Wien | Young Ho |
| 7. | 05/11/2021 | 14:30 - 18:00 | Mollardgasse 34, 1060 Wien | not specified |
| 8. | 06/11/2021 | 10:00 - 17:00 | Mollardgasse 34, 1060 Wien | not specified |
| 9. | 07/11/2021 | 10:00 - 17:00 | Mollardgasse 34, 1060 Wien | not specified |
* All prices including VAT