MAMA TO BE - YOGA - WORKSHOP
Online stream
Starts on Saturday, 10/07/2021
Price 45.00 €
Description:
Praktizierst du schon länger Yoga und möchtest deine Yogapraxis auch in der Schwangerschaft sicher weiterführen?
Dieser Workshop richtet sich an Alle die:
Etwas verunsichert sind und gerne mehr über Do's and Don'ts wissen wollen
schwanger sind und mit Yoga beginnen wollen
die andere Mamas-to-be kennenlernen wollen
Das erwartet dich:
Yoga unterstützt dich in dieser sensiblen und aufregenden Phase deines Lebens, um zu einem achtsamen und bewussten Umgang mit Dir zu kommen sowie den vielfältigen Gefühlen und Gedanken in der Schwangerschaft mit Ruhe, Kraft und Ausgeglichenheit zu begegnen. Dein Körper und deine Psyche durchlaufen viele Veränderungen, deshalb gibt es für dich modifizierte Asanas sowie Pranayama (Atemübungen). Yoga ist eine wunderbare Methode, Schwangerschaftsbeschwerden zu lindern und deinen Körper stark und aktiv zu halten. Eine regelmäßige Yogapraxis bereitet dich ideal auf die Geburt vor und sorgt für Entspannung.
Dieser Workshop richtet sich an jene, die ihre (bereits bestehende) Yogapraxis an die neuen Bedürfnisse sowie jene des Babys in der Schwangerschaft anpassen wollen. So bleibt deine Yogapraxis in allen Trimestern sicher. Es wird eine gesamte Einheit geboten (Pranayama, Asanas, Meditation) sowie zusätzliche Informationen für die jeweiligen Trimester gegeben. Ausgestattet mit diesen Übungen sowie Modifikationen und dem Know How kannst du dann die angebotenen Klassen weiterhin besuchen.
Online stream
There is an online stream available for this activity. To participate, take the following steps:
Make sure to read the description of your booked activity in advance to know which streaming provider your studio uses for online streaming. Commonly used tools are e.g. Zoom, Youtube Live, Skype, Hangouts, etc. If necessary, download the necessary software or app to your laptop, tablet or smartphone
The access to the online stream is available 15 minutes before the start of the activity. You can find the link for the online stream in your online profile under "My bookings". With a click on "Join online stream now" you will be forwarded to the corresponding page and you join the activity online!
Specific streaming providers, e.g. Zoom, allow participants to see each other through the video camera. If you do not want to show yourself or the personal environment, you can deactivate the camera function or cover the camera. The name you enter when you join the online meeting room will be shown to other participants. However, you can change your name at any time (e.g. only specify the initials).
Teacher :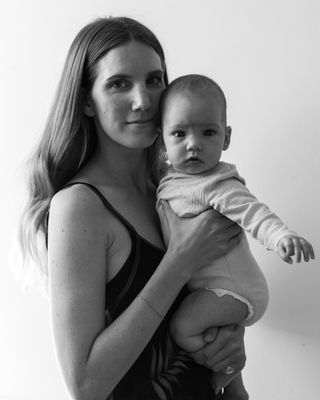 Anna
Anna ist Pädagogin und klinische Psychologin und hat im Yoga die Komponenten gefunden, die ihr zu ihrem ganzheitlichen Mind-Body-Connection gefehlt haben. Somit war es nur eine logische Konsequenz, dass sie 2018 eine Ausbildung zur Yogalehrerin auf Bali absolviert hat. Seitdem unterrichtet sie Vinyasa Flow und liebt es, sich kreativ auszutoben, im Flow gefordert zu sein um in der Bewegung und Atmung Ruhe zu finden. Als Anna 2019 schwanger wurde, hat sie sich nach genau solcher Yogapraxis gesehnt, war sich aber stets unsicher, was geht und was nicht. Somit absolvierte sie ein pre- und postnatales YTT und bildet sich noch immer laufend fort. Sie möchte ihr WIssen und vor allem Erfahrung nun auch an andere werdende Yoga-Mamis weitergeben, die ihre Yogapraxis während und nach der Schwangerschaft weiterführen wollen. Sie ist Expertin für pre- und postnatales Yoga hier im Tribe.
Dates:
| | | | | |
| --- | --- | --- | --- | --- |
| 1. | 10/07/2021 | 11:00 - 14:00 | Burggasse 74, 1070 Wien | Anna |
* All prices including VAT