Re-connect with life & nature - international guest Geoff Brooks - 3 Masterclasses
Starts on Friday, 09/07/2021
Price from 70.00 €
Description:
International guest and also part of our yoga teacher training 'trees and stories' is Geoff Brooks. We are very glad he visits Yoga Villa Steyr during his Europe tour. He will be hosting masterclasses mid July at Yoga Villa Steyr. The workshops will be taught in English.
Take advantage of this unique opprtunity.
Re-Connect with life & nature Time to shake off the this last year of uncertainty and embrace the summer ahead by doing what the Yogi's have been doing for thousands of years - reconnect with our True Nature.
3 Masterclasses which if completed give you an additional 10hours of Yoga Alliance certified training and guest teaching classes.
Hatha Masterclasses Friday & Saturday
An all levels practice focusing on 'adding a little spice' to open the body and give yourself a platform of confidence, contentment and strength to truly participate in this fresh new existence.
Geoff's approach to the practice is steeped in the philosophy of Yoga and the deep comprehension that the movement of the body regulates the movement of Prana and allows the body to self regulate and heal. Coming into the summer out of a deeply recessed winter this practice will help you identify techniques to open your deepest doorways in a way that is steeped in self nurture and care.
We explore all aspects of a Hatha practice including breath, movement and mind focus techniques in order to reset your entire BEing.
Sunday "Church" Masterclass on Sunday Meditation and Pranayama Essentials
This practice takes the lessons of strength from the previous day and introduces a deep resonating sense of clarity and calm though deeply embodied vinyasa, while also experimenting with stillness, breath and mindfulness. A true sense of self worship.
Friday & Saturday Masterclass Class: € 160 (7 hours) Sunday Mastercalss (3 hours): €70 Tripple (all Masterclasses): €220 LIMITED SPOTS // CLASSES IN ENGLISH
These masterclasses are not only for yoga teachers but also yogis who have been practising yoga for a little while. Don't be shy - join us :).
Das Special kommt ab 5 Teilnehmern zustande.
Teacher :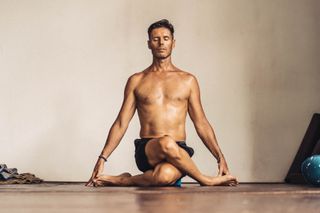 Geoff
Geoff is a technical Master of Yoga, learned from over 25+ years of movement-based arts; including influences from traditional and modern Yoga practices, martial arts and biomechanics. What differentiates Geoff is his ability to read energy lines and blend the technical with an intention of creating the energy flow through the body - something that our modern lifestyles highly compromise.
Dates:
| | | | | |
| --- | --- | --- | --- | --- |
| 1. | 09/07/2021 | 16:00 - 19:00 | Garten I Leopold-Werndl-Straße 18, 4400 Steyr | Geoff |
| 2. | 10/07/2021 | 15:00 - 19:00 | Garten I Leopold-Werndl-Straße 18, 4400 Steyr | Geoff |
| 3. | 11/07/2021 | 09:00 - 12:00 | Garten I Leopold-Werndl-Straße 18, 4400 Steyr | Geoff |
* All prices including VAT