Yin Yoga Special - international guest Geoff Brooks - 1 Masterclasses
Starts on Sunday, 11/07/2021
Price 50.00 €
Description:
International guest and also part of our yoga teacher training trees and stories is Geoff Brooks. We are very glad he visits Yoga Villa Steyr during his Europe tour. He will be hosting masterclasses mid July at Yoga Villa Steyr. The workshops will be taught in English.
Take advantage of this unique opprtunity.
Yin Yoga Special (2h): €50 LIMITED SPOTS // CLASSES IN ENGLISH
While Yin Yoga is suitable for everyone, it is a wonderful practice, with benefits ranging from lowering stress levels, to balancing hormones, to promoting self care, self love and a deeper connection and appreciation for oneself.
The concept of Yin Yoga has been around for thousands of years and some of the oldest yogic texts note only sixteen postures, which is far less than the millions of postures practiced in a yoga class today. In addition, these original postures were quite yin-like in style, designed to help promote meditation and long periods of pranayama and sitting.
Yin yoga is a simple, quiet practice, but make no mistake, it is not always an easy or comfortable one! Yin Yoga has the power to take you beyond your regular comfort zone, however, this is where much of the benefit and magic lies.
These masterclasses are for yogis who have been practising yoga for a little while. Don't be shy - join us :).
Das Special kommt ab 5 Teilnehmern zustande.
Teacher :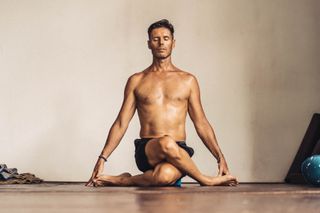 Geoff
Geoff is a technical Master of Yoga, learned from over 25+ years of movement-based arts; including influences from traditional and modern Yoga practices, martial arts and biomechanics. What differentiates Geoff is his ability to read energy lines and blend the technical with an intention of creating the energy flow through the body - something that our modern lifestyles highly compromise.
Dates:
| | | | | |
| --- | --- | --- | --- | --- |
| 1. | 11/07/2021 | 16:00 - 18:00 | Leopold-Werndl-Straße 18, 4400 Steyr | Geoff |
* All prices including VAT