Workshops mit Sara Ticha
Starts on Thursday, 19/08/2021
Price from 50.00 €
Description:
Wir freuen uns sehr, die internationale Gastlehrerin Sara Ticha bei uns begrüßen zu dürfen. Sara ist eine inspirierende Yogalehrerin und ein Anatomy Nerd.
Sie hat online (über 200.000 insta fans) & offline eine großartige Community aufgebaut indem sie Yoga auf so vielen Wegen lebt und dies durch ihr aufgeschlossenes Wesen anderen spürbar macht.
19.08.2021 Spacious Flexibility
Intelligente Tools für mehr Bewegungsfreiheit Finde mehr Weite sowohl in deinem Körper als auch in deinem Geist - befreie dich von Limitationen und erlebe mehr Freiheit.
In diesem Workshop werden wir darüber sprechen, wie du einschränkende Glaubenssätze überwinden kannst. Wir werden gemeinsam chanten, meditieren und neue Werkzeuge kennenlernen, die uns helfen, die Bewegungsfreiheit unseres Körpers und auch Geistes zu erhöhen.
Unsere Peak-Poses werden Spagat, das Rad, das Kamel, Dancers Pose sowie einige Hüft-öffnende Asanas wie die Taube und das Feuerholz (doppelte Taube) sein.
20.08.2021 Fearless Inversions
Meditation, Dharma-Talks und Asana-Praxis mit Schwerpunkt Umkehrhaltungen Deine Kraft ist selten etwas äußerliches – sie kommt von innen. Ziel dieses Workshops ist es, dir zu helfen, deine Kraft zu finden und zu spüren.
In diesem Workshop beginnen wir mit einer kurzen Meditation und einem Dharma-Talk. Danach folgt eine Asana-Praxis die sich auf Umkehrhaltungen konzentriert.
Erfahre, wie du auf sichere und intelligente Weise in Umkehrhaltungen wie Kopfstand, Handstand und Unterarmstand hinein und auch wieder heraus :) kommst.
Teacher :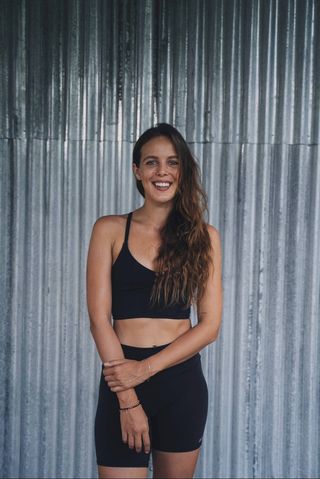 Sara
I'm Sara and I am a yoga and meditation teacher. My passion is learning about life and myself and the practice of yoga made that possible in the most beautiful way. I love sharing what I learned with others through my classes. I am a big fan of journaling and to help you with that, I wrote an ebook full of exciting prompts that will help you to get to know yourself better.
Dates:
| | | | | |
| --- | --- | --- | --- | --- |
| 1. | 19/08/2021 | 18:00 - 20:00 | Garten I Leopold-Werndl-Straße 18, 4400 Steyr | Sara |
| 2. | 20/08/2021 | 16:00 - 18:00 | Leopold-Werndl-Straße 18, 4400 Steyr | Sara |
* All prices including VAT